Tracey Kappler – culinary master, bartender, brand ambassador and sales professional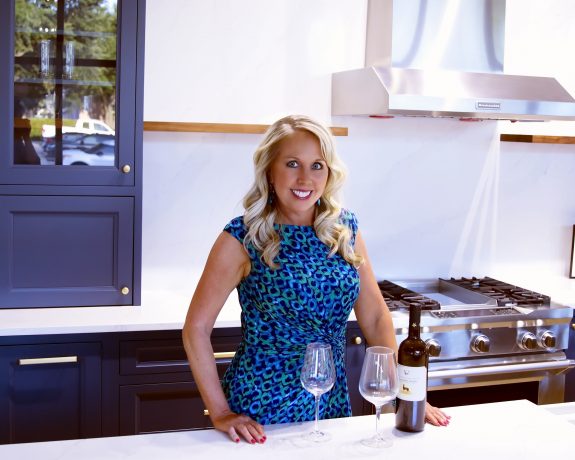 Hello there and thank you for checking out my website!  I wanted a few minutes to share with you a little bit about my background. My love for food and cooking started out at a very early age, probably around 5 or 6 years old.  I was influenced by my Dad in the beginning and later my step-Mom.  When I was younger, we didn't have microwave ovens in our kitchen -so we had to learn how to cook most everything from scratch on the stove or under the broiler.  I learned how to make cinnamon-sugar toast under the broiler oven. At  5 years old I was making my own toast, pudding and learning how to scramble eggs. One of my favorite moments with my Dad was watching him make home-made pancakes on Saturday or Sunday mornings.  He would often add bananas, blueberries or any other fruit we had on hand -that would get tossed into our pancake batter.  I love homemade pancakes!  It wasn't long, before I memorized the recipe and could duplicate what my Dad was doing to start my own hardy breakfast.
I continued with cooking through-out my life.  Being the oldest child, I often had to start casseroles after school and get things prepped for dinner with my family.  One of my funniest stories was when I got a phone call from my Mom and she asked me to start a tuna casserole -so that we could have it for dinner.  When we sat down for dinner -my Mom and a couple of siblings said this taste different. While my Mom was scooting the noodles around on the plate and looking at the dinner -she asked, "Where is the tuna fish?"  -I immediately looked down, and then realized that I forgot to add "tuna" to my tuna casserole.  Yep!  I'm sure you've got a story or two -like that to tell about yourself, in the early days of learning to cook. My family will never let me forget that moment.
Usually I ate chicken dishes and lots of ground beef -since it was pretty cheap in the Panhandle of Texas (I am from Amarillo, TX). As a college student, I learned to make recipes with Ramen noodles and rice.  As I continued to invest in learning more skills, I took a few professional culinary cooking classes in Dallas.  I usually tried to impress dates with some of my families favorite recipes -like Sour Cream Chicken Enchiladas, Schlock or Texas chili.  It was a success!  I seem to have a knack for going through that process and making some really tasty food.
I can't remember the point in time when I got addicted to The Food Network. So many times I had that program going on television and could listen to it in the background while I was home cooking dinner or getting my cup of coffee started on a Saturday morning.  Every time I learned to create a new recipe, it thrilled me!  I can't tell you how good I feel when someone that I invite over for dinner who enjoys my cooking. I've been fortunate enough to try so many things while I lived at home with my family.
In June of 2015 I was looking for a new way to maximize my skills. I enrolled in a bartending school and completed that in 2 weeks with straight A's on the test. It was a fun experience and I felt like I was the Master Mixologist once I got my certification.  I was lucky enough to get some part-time shifts with a couple of companies that needed Brand Ambassadors -like Pourtastic LLC and Maximum Beverage. They immediately allowed me to work several events and I do mostly craft beer and wine tastings.  I have done bartending with Simcha Kosher Catering, one of the most prestigious Jewish event planning caterers in Dallas. I also have been asked to bartend for friends weddings, 50th Anniversary parties and other special events.  It's so much fun for me!
My passion for delicious recipes and cocktails never ceases!  In fact -so many friends and family have asked me to either cook something for a special occasion or give them my recipe. I'm proud to say, I love to do both. One Christmas Eve, I mentioned to my sister that I wanted to be "in charge" of the dinner.  -She said okay, so I cooked Chicken Piccata.  We had a house full of 22 family members and several people went back for second servings.  I love to see that -when I cook something delicious!
Probably my favorite thing to eat is steak!  So -I have mastered the way I want to eat it.  First starts with the right marinade, secondly you have to give it time to soak in the juices of the spices and third -you need to learn how to grill a good steak.  I prefer my steak medium-rare. I guess pancakes would be up there too for my favorite foods (as I mentioned above).  I love to make Italian food as well!  My best recipes would be my Chicken Piccata, Italian Meatloaf, Pizza and Pizza Soup.  If you were to come over for dinner, my first question would be, "Are you allergic to anything or is there anything you don't like to eat?"  If you give me your criteria, I will surprise you with the rest.  It's so refreshing to find someone that likes most everything and has an openness to try new things.  On one occasion I met a guy who I was dating that did not eat vegetables.  I made him chili -he was so impressed!  My motivation is always to stay ahead of the curve and learn how to make new things with different foods.
The reason I started my website is from the encouragement I received from my family and friends. I also think it's important to share my recipes so that they can enjoy cooking and eating good food as well.  I live by the philosophy of, "give a man a fish and you feed him for a day; teach a man to fish and you feed him for a lifetime."  I apply this principle to cooking.  If I can show you how to make something that is totally delicious, you will want to learn to cook even more.
I appreciate you taking time to read my bio today  Please take time to rate my recipes, submit your own and ask me any question.  I hope to address all your questions and make for some interesting conversation through my weekly blogs.
A recipe has no soul.
You, as the cook, must
bring soul to the recipe.
~ Thomas Keller
Cheers!
-Tracey