Chicken with Artichokes and Mushrooms
2020-09-27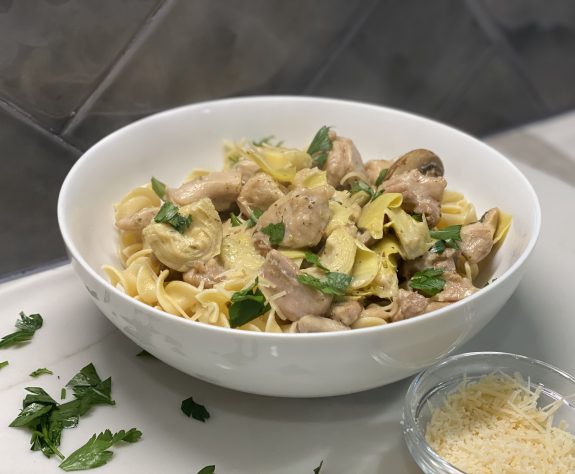 Are you a mushroom fan, like me?  If so, then this entrée might fit the bill for tonight's dinner.  I had some miscellaneous food in my refrigerator and panty, so these items inspired me to create something tasty with all the ingredients.
Ingredients:
6 chicken thighs, cut up in bite sized pieces
3 Tablespoons Extra Virgin Olive Oil
16 oz. Portabella mushrooms or white mushrooms, sliced
2 large garlic cloves, minced
1 Shallot, diced up
1 Tablespoon chopped fresh Italian parsley.
1/2 cup White wine
1 cup Low-sodium chicken broth (more as needed)
1 can (14 oz. size) Artichoke Hearts, drained, rinsed and patted dry -cut into bite sized pieces
3/4 cup heavy cream
1 teaspoon Italian Herbs
Salt & Pepper to taste
Freshly Grated Parmesan cheese
10 oz. pasta, cooked & drained (I used egg noodles)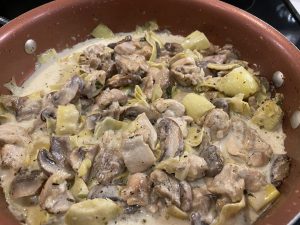 How to make it:
Cook pasta -according to package directions until al dente.  Drain and pour drained pasta back into the pot.  Add the lid and move aside.
In a large skillet, add olive and add chicken.  Cook chicken on medium-high heat until all the chicken is cooked thoroughly and brown for 1 to 2 minutes. Remove chicken from heat and se aside until later.
Add the garlic, shallot and mushrooms to the pan and stir around for a few minutes.  Add wine and cook for a minute until it evaporates.
Pour chicken broth over the onions and mushrooms and let that bubble and simmer a little.  Add the artichoke hearts.  Allow this to cook for about 6-10 minutes.  After this time, add the heavy cream and stir in the pan.  Allow 10 minutes for the sauce to thicken. Then add the chicken thighs back into the pan. Season with Italian Herbs salt & pepper.
Ladle out the pasta into a bowl, pour chicken sauté over the top. Sprinkle with Parmesan and Italian parsley to serve.
Average Member Rating
(0 / 5)
0 people rated this recipe