Salmon & Fire Roasted Sweet Pepper Pasta
2018-10-23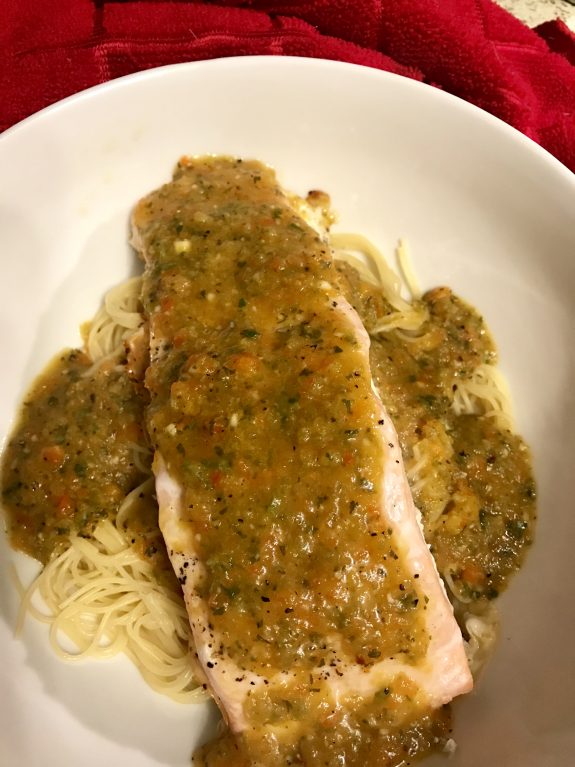 You'll enjoy this delicious baked salmon with fire roasted yellow and red pepper sauce ladled over angel hair pasta.  Low in calories and very tasty.
Ingredients:
2 (4-5 ounce) fillets fresh salmon
2 Tablespoons lemon juice
1 teaspoon Extra Virgin Olive Oil
1/2 cup roasted yellow & red peppers
1/3 cup grated Parmesan cheese
1 teaspoon Arrowroot Starch
2 jalapeno peppers, diced
1 clove garlic, minced
1/4 cup fresh cilantro
1 cup low sodium chicken stock
1 (8 ounce) package angel hair pasta
1/2 teaspoon salt
1/4 teaspoon pepper
Pinch of red pepper flakes
How to make it:
Preheat oven to 450 degrees F.  In an 8 inch baking dish, arrange fillets in a single layer.  Sprinkle with fresh olive oil, lemon juice, lightly salt and pepper.  Tightly cover dish with foil.  Cook until fish is opaque, but still moist in the thickest part -approximately 12 minutes.
Meanwhile in a blender combine chicken stock, red peppers, Parmesan cheese, jalapeno peppers, cilantro and garlic.  Whirl to blend thoroughly.  Pour mixture into a medium skillet and stir over medium heat until bubbly.  When sauce starts to bubble, ladle out 3-4 tablespoons of into a small bowl.  Add Arrowroot starch, whisk with a fork and add back into the skillet.
Cook pasta according to package directions until tender to bite.  Drain and return to pan.
Spoon pasta onto plates, add some sauce.  Add salmon over pasta and drizzle with more sauce.  Top with Parmesan cheese if desired.  Serves 2.
Average Member Rating
(0 / 5)
0 people rated this recipe