New York City Sites, Sounds and Flavors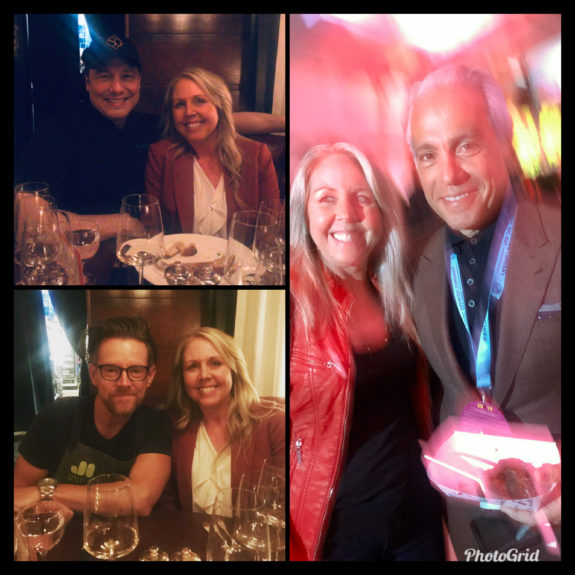 New York City sites, sounds and flavors!
It's October 2019 and I'm finally back in New York City, after twenty years. My friend and I took a girl's trip. Things have changed tremendously! The last time I was in this beautiful city, the Twin Towers stood tall in the downtown skyline. The traffic is still as heavy as ever, the brisk walk of pedestrians hasn't changed, and the rumors about the rude people… is definitely not true.
In 1999, I checked out Ellis Island, Times Square and the Broadway show "Rent" with Andrew McCarthy. In 2019, I had the opportunity to see Wicked Broadway show, which is outstanding! I can honestly say it's the best musical I've ever seen! After the show, we went to Sardi's off 44th Street. This old school restaurant with charming vibe is seasoned with caricatures all over each and every wall.
They make their own homemade pasta; you can taste the difference…. It's so delicious!
My adventures were just beginning on this trip back. The next day we walked to a cozy cafe near our hotel called New York Luncheonette off 50th Street. They are a no frills diner known for their breakfast! I mixed things up and asked for a turkey sandwich with egg over-easy. It was awesome! This wasn't my only visit to this restaurant, I went back my last day in town at 6 AM before I had to catch a flight. Same great food, service and even at 6 AM -the coffee was hot and ready.
Our next stop was Rockefeller Plaza. They had the scenic ice skating rink smack dab in the middle of the plaza. I was so impressed by the gorgeous Autumn farmers market on the square which is open October 2nd – 25th. We bought fresh apples, pears, tomatoes, hard cheese, French bread, some fresh-baked pastries and a bottle of wine to take back to our hotel room. Our little hotel refrigerator would keep everything fresh. This is what we snacked on and ate for breakfast a couple of days.
The Morrell Wine Bar & Cafe is a great place on the square to stop for an adult beverage or bite to eat. They serve pasta, salad and small plates (tapas portion) to share. We enjoyed stopping there for wine, beer and people watching.
After a busy day of shopping for clothes and food at the farmers market, it was time to get ready for dinner reservations at Mastro's Steakhouse in Midtown Manhattan. I heard so many great things about this restaurant and was very happy we were able to have dinner there. Oh my gosh, the ambience is unbelievable! There were two singers near the upstairs bar who even took requests. Everyone was dressed up and the bartenders and wait staff were so diligent and friendly.
Our entrees consisted of filet mignon, chilean sea bass and seared sea scallops with caviar -served over creamy garlic mash potatoes. Our sides were green beans, sautéed mushrooms and string potatoes. My mouth was watering just reviewing their menu. It was outstanding! Mastro's is recognized for their combination of world-class service, highly acclaimed cuisine, and live entertainment in an elegant, yet energetic atmosphere.
Saturday was a great day to check out Central Park. The weather on this particular day was 70 degrees. The park was alive with so many people. We saw street singers, musicians, people walking, jogging, riding bikes and couples and families picnicking on the lawn. We jumped into a buggy on the back of a bicycle where a rider charged to give you a lift. You CAN negotiate your rates, they usually start with a price they have in mind. These bicyclist weren't around in 1999, if they were… I didn't see any at that time.
Our brunch was at Tavern on the Green in Central Park in Manhattan. This iconic restaurant opened initially in 1934. It was closed in 2009 and went through a renovation and had a few ownership changes. They reopened in April 2014. I tried to go my first time in New York City back in August 1999, but they had a private party the particular day we wanted to go. Our hostess sat us in the middle of the outdoor patio. I got a little distracted by so many handsome men and a bee that must have liked my perfume. However my lunch entree of shrimp and grits -along with my date, goat cheese and arugula salad quickly took my breath away. I loved it!
On our stroll back, we stopped by The Metropolitan Museum of Art. The Met has a grand setting for one of the world's greatest collections of art, from ancient to contemporary. I heard they offered an assortment of scarfs in their gift shop that match the art exhibit. I ended up buying a T-shirt instead that was so beautiful. You absolutely need more time to see everything. We only scratched the surface this day.
This was my first evening to attend the New York City Food and Wine Festival. This event was called Titans of BBQ and it's hosts were Dario Cecchini, Pat LaFrieda and Michael Symon. I had a different perception in my mind than what I experienced at the barbecue. I thought the guys would be cooking it, and we can watch them. However, it was a bunch of different restaurants from the New York area serving their barbecue in booths. I tasted so many things: tacos, ribs, barbecue sandwiches with doughnut buns. They also served Knob Creek Whiskey, Tito's Vodka, 14 Hands Wine, Modelo and Blue Moon Beer. There was a DJ spinning tunes outside and the beautiful New York skyline was across the Hudson River Greenway. I was also lucky enough to meet Geoffrey Zakarian. He is featured on several television programs on the Food Network including  "The Kitchen", "Chopped" and in 2011, The Next Iron Chef where he won the right to join Iron Chef America. He is so nice and very personable.
Sunday was our last full day in town. We were both so hungry and I was craving New York City pizza. The best place to go is Lombardi's off Spring Street. This traditional restaurant has been serving coal-fired, thin-crust Neapolitan pizza since 1905. We tried our first white clam pizza. It's really good and so unique! The only drawback we experienced was they only accept cash. We polled our money together and paid for lunch. Next time I am getting a pepperoni pizza with fresh basil. I don't think you can go wrong with anything you order here!
After lunch we had to go check out the 9/11 Memorial Museum in New York City. When I made my first visit to New York City in 1999, the skyline has definitely changed since then. The energy around that place is of mixed emotions. People are taking pictures and buying books from street cart merchants. I think the memorial is amazing. I got a little choked up thinking about September 11, 2001. We walked around the memorials of north, south and One World Trade Center site.
Our last Food Network event was my absolute favorite! We had a private dinner with Rocco DiSpirito and Richard Blaise. Rocco is an American celebrity chef -based in New York City.  He is known for his Italian-American cuisine and his innovative fusion cooking.  Rocco is a successful chef, the author of nine award winning books and has been involved in "reality TV cooking competitions." Richard is also an American chef, television personality, restauranteur and author.  He has been on reality TV cooking show "Top Chef." Richard founded Trail Blaise, a creative culinary company that has consulted on, designed and operated some of Atlanta's most popular eateries. Richard talked to us about his most recent project, hosting a weekly podcast about the culinary industry called "Starving for Attention." 
Our dinner was held at The Standard -High Line Hotel. As we walked in I noticed the Cowboys playing The Jets on a large TV in the courtyard. We quickly checked in and told of our table seating assignment. The servers were walking around with wine and hors d'oeuvres. I ate: abalone stuffies with whipped lemon, ricotta, sourdough, Lardo and Thomcord grape, beet tartare, game changing toast and sea lettuce wrapped shrimp binchotan with quince glaze.
Our spectacular dinner entrees were: roasted veal bone marrow, tuna tartare with quail egg. Black Seabass, green olives and habanero pepper purée. Porchetta chop with miso mustard, turnip and apples. For dessert we were served Chocolate Bird's Nest. Along with this delicious food, we enjoyed five different varieties of Mouton Cadet Wine. It was the best dinner I've ever eaten! Kudos to Rocco and Richard. I exchanged pleasantries with the chefs several times. We had a table near the kitchen entrance, so the gentlemen stopped by our table several times. Meeting both of these celebrity chefs was the highlight of my entire trip!
We became acquainted with new friends at this private dinner and heard about the Food Network events they attended. I will definitely be coming back next year and plan on reserving my spot with Rocco and Richard again, if they are doing a joint dinner event.
New York City was fabulous and I really enjoyed my visit with so many new sites, sounds and delicious flavors! I can't wait to go back soon!