Oatmeal Muffins with Banana and Blueberries -Sugar Free
2018-11-27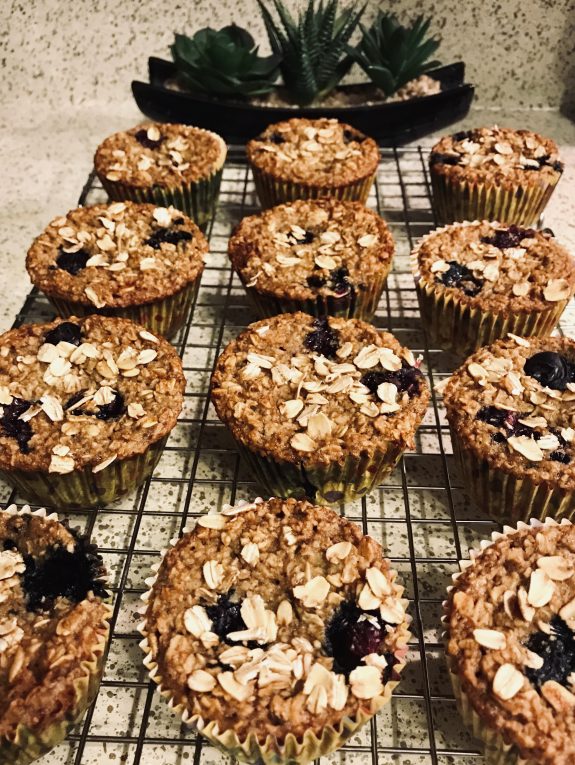 These muffins have no flour, sugar -they are oil free and very healthy!  Muffins are the easy and highly portable breakfast choice.  My muffins use honey and fruit to make them sweet.  Once you make these, you will resort back to this recipe again and again. Make extra and put in zip lock freezer bag and freeze -for future use.  This is a convenient and highly nutritious breakfast option or snack for your entire family.
Ingredients:
2 1/2 cups old-fashioned oats ( 1 1/2 cups ground, 1 cup whole)
2 Tablespoon old-fashioned oats for muffin tops
2-3 overripe bananas (I use 3 bananas)
1/2 cup fresh blueberries, reserve about 12 and set aside
2 large eggs, slightly beaten
1/3 cup honey
3/4 cup whole milk
2 teaspoons real vanilla
2 teaspoons baking powder
1/2 teaspoon baking soda
1/2 teaspoon salt
1 teaspoon cinnamon
2 quantity muffin tins
15 cupcake liners
How to make it:
Preheat oven to 325 degrees.  Place oats on baking sheet and toast until slightly browned, stirring once about 4 to 6 minutes.  Let them cool to room temperature.
Divide oats into portions of 1 1/2 cups ground, 1 cup whole oats and 2 Tablespoons of oats for muffin tops.
Turn oven heat to 350 degrees.
Place 1 1/2 cups of oats in a food processor or chopper and pulse until they reach a rough, flour like consistency. Pour these oats into a large bowl and the 1 cup of whole oats. Add the baking powder, baking soda and salt to the bowl.  Mix together.
In a medium sized bowl, mash the bananas -they should have no lumps.  I use my hand mixer and then I add other wet ingredients.
Add eggs, honey, milk and vanilla.  Mix to combine.
Pour wet mixture into dry mixture.  Fold in blueberries (do not include the 12 or so that you set aside) -gently so they don't break.
Scoop into muffin tins lined with muffin wrappers (make about 15 muffins). Top the muffins tins with remaining blueberries -so that they show up on top of batter mixture.  Sprinkle with the 2 Tablespoons of toasted oats from earlier.
Bake at 350 degrees for 20-23 minutes.  The muffins usually take about 23 minutes.  A toothpick inserted in the center of a muffin should come out clean when they are done baking.  Enjoy!
Average Member Rating
(0 / 5)
0 people rated this recipe