Magnificent Marinara Sauce
2018-09-11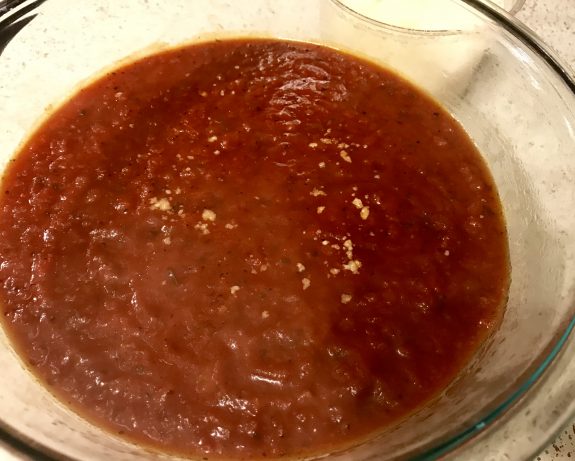 Ready to make your own homemade marinara sauce?  You'll be so happy I shared this recipe because it not only taste great -but it's also super easy!  You can serve with your favorite pasta.  I made this my first time and made Eggplant Parmesan -using the yummy sauce.
Ingredients:
1 (28 ounces) can of crushed Roma style tomatoes
1 (6 ounce) can tomato paste
4 tablespoons chopped fresh Italian parsley
2 cloves garlic, minced
1 teaspoon dried oregano
1 teaspoon dried basil
1 teaspoon salt
1/2 teaspoon ground black pepper
5 tablespoons Extra Virgin Olive oil
1/3 cup finely diced yellow onion
1/2 cup of red or dry white wine (I used a good red blend)
How to make it:
In a large skillet or stock pot over medium heat sauté the onion and garlic for about 2 minutes.  The onions will become translucent when they are finished cooking. Ladle the onions and garlic in a food chopper or food processor.  Add the fresh parsley, then chop more finely -until the mixture is incorporated thoroughly.  Return the onion mixture to the stock pot.
Combine the crushed tomatoes, tomato paste, oregano, basil, salt and pepper to the stock pot.  Continue cooking over medium heat, stirring constantly until tomato paste is blended.  Add the wine and stir some more.
Simmer for 30 minutes, stirring occasionally.
Average Member Rating
(0 / 5)
0 people rated this recipe