Homemade Pancakes
2023-08-20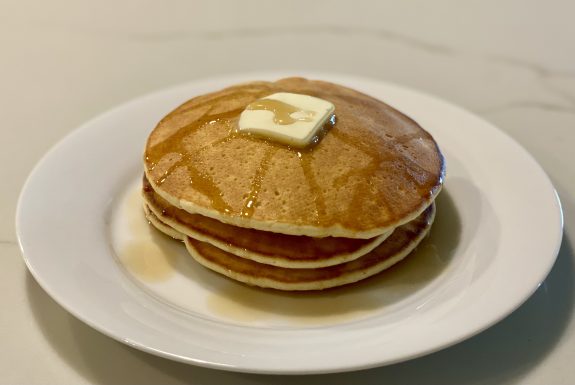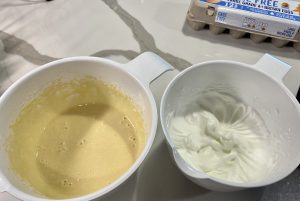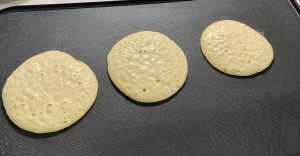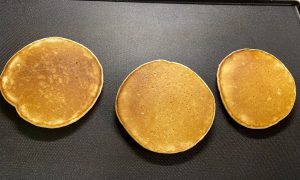 From the time I was a little girl, I always enjoyed when my Dad made homemade pancakes. He never had a recipe written down, so I had to be extra observant to see all the ingredients and tailor the recipe based on number of people eating the pancakes. My recipe yields about eight 3 inch diameter pancakes. You could always double the recipe based on the amount of pancakes you're preparing.
Ingredients:
1 heaping cup of flour
1 tsp baking powder
2 tablespoons of granulated sugar
1/8 tsp salt
1 tsp pure vanilla extract
2/3 cup whole milk
2 eggs separated (egg yolks/egg whites)
Optional: blueberries, chocolate chips, or diced up banana pieces
Non-stick no calorie cooking spray
Directions:
You will need a griddle or a large non-stick skillet for the pancakes. Spray with non-stick cooking spray & gently blend all over with napkin or paper towel.
In medium sized bowl, separate the egg yolk from the egg white. Put the egg yolks in large bowl & egg whites in medium bowl. Beat egg whites with hand mixer until they are white & fluffy! Set aside fluffy egg whites.
In large bowl combine flour, baking powder, sugar, salt, milk, vanilla, egg yolks only. Mix with a hand mixer until thoroughly blended.
Now, gently fold in the fluffy egg whites into the pancake batter with a spoon. Try to not stir too fast, because this slow folding process makes your pancakes extra fluffy.
Now you will want your skillet on medium to low heat or your griddle around 300°. Pour about 2 1/2 Tablespoons of batter on the surface. You will probably want to do pancakes in slow steps. When you see several air bubbles on the top of the pancakes, you know that's when it's time to turn them over.  This recipe will make about 8 pancakes.
Average Member Rating
(0 / 5)
0 people rated this recipe