Goat Cheese and Chorizo Rolls
2012-08-06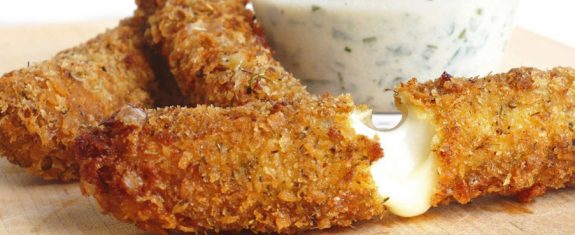 Oh, I love this appetizer.  The creamy bite of goat cheese -just melts in your mouth.
Ingredients:
8 ounces fresh goat cheese
1 cup chopped dry chorizo
1 1/2 tablespoons minced chives
Salt and freshly ground black pepper
Nine 12-by-16-inch sheets of thawed phyllo dough
Melted butter, for brushing
How to make it:
Preheat oven to 400 degrees and line two large baking sheets with parchment paper.  In a bowl, combine the goat cheese, chorizo and chives.  Season to taste with salt and pepper.
Lay a sheet of phyllo on a clean dry work surface and brush it with melted butter.  Top with two more sheets, lightly buttering each as you go.  Cut the layered phyllo into six long rectangles.  Place one tablespoon of the goat cheese filling at the base of each rectangle and roll up the phyllo, folding in the sides as you go.  Repeat twice more to make 18 rolls total.
Place the rolls on the prepared baking sheets and brush the rolls with butter; bake for 10 minutes or until golden.  Serve hot with chimichurri rojo for dipping.
Average Member Rating
(4.3 / 5)
862 people rated this recipe