Italian Meatballs and Magnificent Marinara Sauce
2018-10-11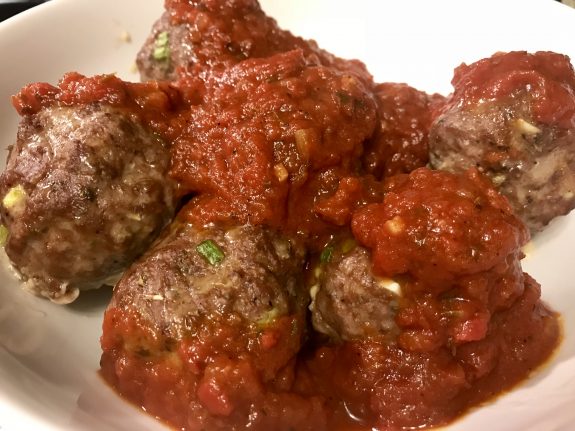 Italian food is my favorite! This recipe will be one you go to again and again.  It's delicious and pretty easy to make.  I use my scratch made marinara sauce.  You can buy sauce, but I doubt it won't be as good as mine.  Make extra meatballs -if you wish.  You can freeze them and when you're ready to use, pull them out of the freezer a few hours before you need them.
Start this recipe with my Magnificent Marinara Sauce:
Ingredients:
1 (28 ounces) can of crushed Roma style tomatoes
1 (6 ounce) can tomato paste
4 tablespoons chopped fresh Italian parsley
2 cloves garlic, minced
1 teaspoon dried oregano
1 teaspoon dried basil
1 teaspoon salt
1/2 teaspoon ground black pepper
5 tablespoons Extra Virgin Olive oil
1/3 cup finely diced yellow onion
1/2 cup of red or dry white wine (I used a good red blend)
How to make it:
In a large skillet or stock pot over medium heat sauté the onion and garlic for about 2 minutes.  The onions will become translucent when they are finished cooking. Ladle the onions and garlic in a food chopper or food processor.  Add the fresh parsley, then chop more finely -until the mixture is incorporated thoroughly.  Return the onion mixture to the stock pot.
Combine the crushed tomatoes, tomato paste, oregano, basil, salt and pepper to the stock pot.  Continue cooking over medium heat, stirring constantly until tomato paste is blended.  Add the wine and stir some more.
Simmer for 30 minutes, stirring occasionally.
Meatball Ingredients:
1 lb. grass fed ground beef
1/4 cup Italian breadcrumbs
1 egg
1 teaspoon salt
1/2 teaspoon black pepper
1/2 teaspoon ground oregano
1/2 teaspoon dried basil or use 7 leaves fresh basil (chopped)
1 garlic clove, minced (1 teaspoon)
1/2 teaspoon garlic powder
2 tablespoons onion -chopped
1 -2 teaspoons ground Parmesan cheese (optional)
How to make meatballs:
Preheat oven to 350 degrees.
In a large bowl combine ground beef, breadcrumbs, egg, salt, pepper, oregano, basil, garlic, garlic powder and onion.  Mix thoroughly with your clean hands so that all ingredients are mix together and form into 9 meatballs.
Place meatballs in a 9 X 9 baking pan, either sprayed with non-stick spray or lined with aluminum foil (non-stick).  Bake for 30 minutes uncovered.
When meatballs are finished baking, use tongs to place in a medium sized serving bowl and ladle marinara sauce over the top of each meatball.  Sprinkle with ground Parmesan cheese.
You can serve over spaghetti noodles, cooked spaghetti squash or veggie noodles.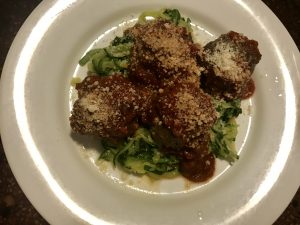 Average Member Rating
(0 / 5)
0 people rated this recipe