Grilled Lemon and Lime Herb Shrimp Kabobs
2018-07-01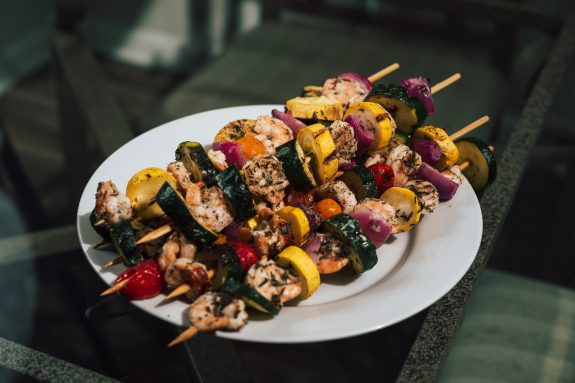 Seafood on a stick?  Say it isn't so!  No, you're not at the state fair!  Adding healthy veggies or fruit (like pineapple) -to this seafood kabob is the best grilling!
Ingredients:
1/2 cup lemon and lime juice (combined)
1/4 cup vegetable oil
1 tablespoon chopped fresh thyme leaves or 1 teaspoon dried thyme leaves
1/4 teaspoon salt
1/4 teaspoon pepper
12 to 14 large shrimp (cleaned, deveined and without their shell)
1 red onion, cut into bite sized pieces
1 large zucchini squash, (about 1 inch in diameter, cut into 1-inch slices)
1 large yellow squash , (about 1 inch in diameter, cut into 1-inch slices)
8 to 10 cherry tomatoes
How to make it:
Mix lemon and lime juice, oil, thyme, salt and pepper.  Marinade shrimp for approximately 2-3 hours before preparing kabobs.
Heat coals, gas grill or hibachi indoor grill.
Thread shrimp, red onion, squash and tomatoes on skewers.  If you have metal skewers, you can spray non-stick cooking spray on the metal.  If you use wooden skewers, you will need to follow package directions and soak in water for 1 hour before using.
Use remaining marinade over the veggies too. Adding more a little more salt & pepper -if desired.  Grill uncovered 4 inches from medium heat 3-4 minutes on each side.  Be careful to not leave too long, the shrimp will turn pink and firm when cooked thoroughly.  The veggies will be caramelized a little too on both sides.
Yield is approximately 6-7 skewers.
Average Member Rating
(0 / 5)
0 people rated this recipe