Beer Salmon with Pickeled Red Onions
2018-05-30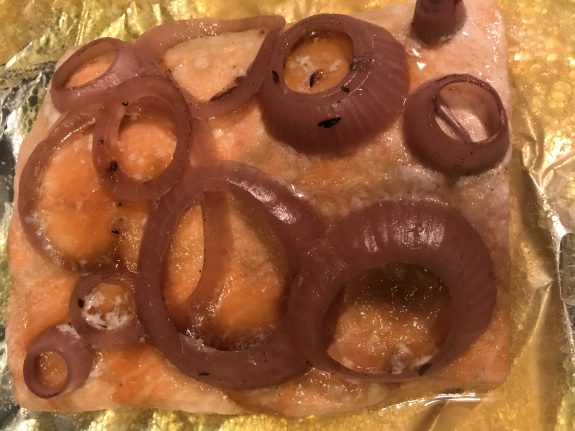 Cooking with beer is the greatest adventure ever…. Yeah, I sip and cook and sip some more…
Ingredients:
1 (12-inch) tail piece salmon fillet (about 1 1/2 pounds)
2 teaspoons garlic salt
3 tablespoons brown sugar
4 tablespoons butter or ghee, cut into small pieces
1 small red onion, thinly sliced (or use my pickeled red onion recipe)
1 (12-ounce) bottle beer
How to make it:
Using aluminum foil, create an oblong cooking tray (approximately 13 inches by 8 inches by 2 inches).  Place salmon fillet in center of the tray.  Season first with garlic salt, sprinkle with brown sugar and then cover with pieces of butter.  Top with sliced red onions. Pour beer of your choice into tray to just below the highest point of the fillet.
Cover tray with aluminum foil to envelope fish completely.  Bake in a 400 degree oven using the rule of thumb for baking fish.  10 minutes of time per 1 inch of thickness.  I cooked my salmon for 15 minutes, but checked it at 10 minute mark.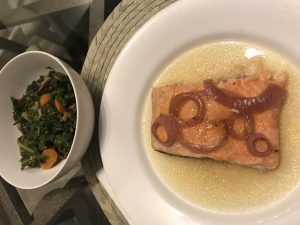 Average Member Rating
(0 / 5)
0 people rated this recipe