Italian roasted butternut squash, mushroom and red pepper
2018-09-18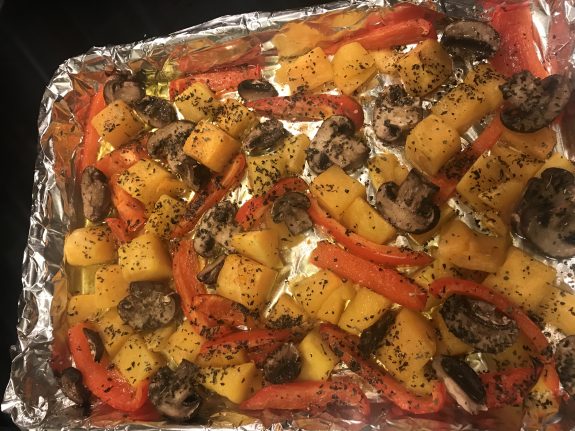 This Italian favorite of roasted veggies goes with so many things.  If you're a vegetarian, you can serve with your protein entrée or use it for a meal and serve over rice or pasta.  It's absolutely so easy.
Ingredients:
1 pound of butternut squash, diced into bite sides pieces
1 cup mushrooms, sliced
1 red bell pepper, cut into strips
1 teaspoon oregano
1 teaspoon basil
1/2 teaspoon garlic powder
3 tablespoons extra virgin olive oil
salt & pepper
How to make it:
Preheat oven to 400 degrees
Line a sheet pan with aluminum foil, -it should have about a 1 inch lip.
Throw down all the veggies and spread evenly over the pan -like a pizza assembly
Drizzle with olive oil, spices and lightly season with salt & pepper
Roast for approximately 13-15 minutes.  Check on the vegetables, so you don't over-cook. The vegetables will be soft -when they are finished cooking. Slide a fork in the squash to confirm.
Average Member Rating
(0 / 5)
0 people rated this recipe