Creamy Chicken, Spinach and Artichoke Skillet Dinner
2018-05-30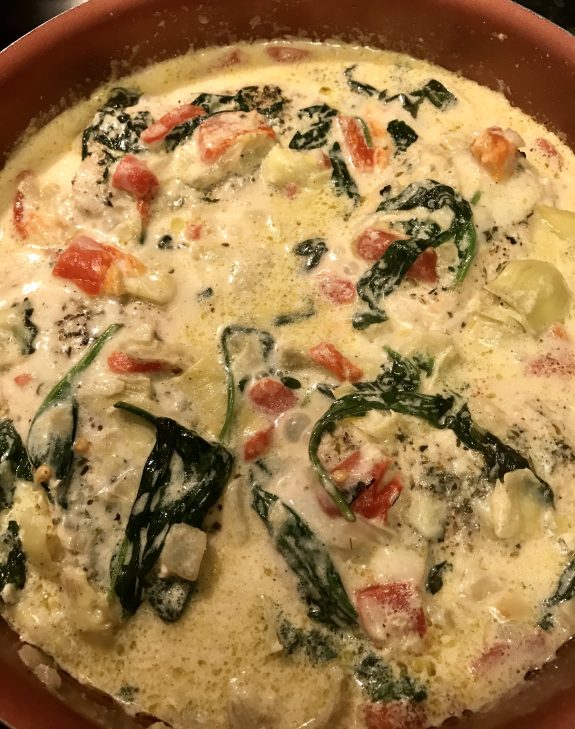 This creamy skillet chicken dinner will be a new favorite.  It's so easy and super delicious!
Ingredients:
2 tablespoons Extra Virgin Olive Oil
4 chicken breasts
1 teaspoon dried oregano
3 tablespoons butter or ghee
3 cloves garlic, minced
1/2 small yellow onion
1 1/2 cups baby spinach
1/4 cup fresh basil leaves
1 (8.5 -oz.) can artichoke hearts, chopped
1/2 cup sliced roasted red peppers
1 cup half-and-half
1/2 cup shredded fresh mozzarella cheese
1/4 cup Parmesan cheese
Kosher salt
Black pepper
How to make it:
Pour Extra Virgin Olive Oil in large skillet and turn on medium-high heat.  Season chicken all over with salt, pepper and oregano.  Add the chicken to the hot skillet and cook until golden on each side (approximately 6 minutes per side).  When finished cooking, remove the chicken from the skillet and set aside.
Melt butter in skillet then stir in garlic and yellow onion. Cook until fragrant and onions are translucent.  Stir in baby spinach, artichokes, red peppers and basil leaves. Cook until spinach starts to wilt.  Add half-and-half and bring mixture to a simmer.  Still in mozzarella and Parmesan and season again with a little salt & pepper to taste.
Return chicken to skillet and cook until sauce has thickened slightly and chicken is completely cooked through, about 5 more minutes.  Remove from heat.
Serve warm chicken with sauce.
This recipe can be served over long grain rice or linguine pasta if desired.
Average Member Rating
(0 / 5)
0 people rated this recipe