Sesame Snow Pea Saute'
2018-10-03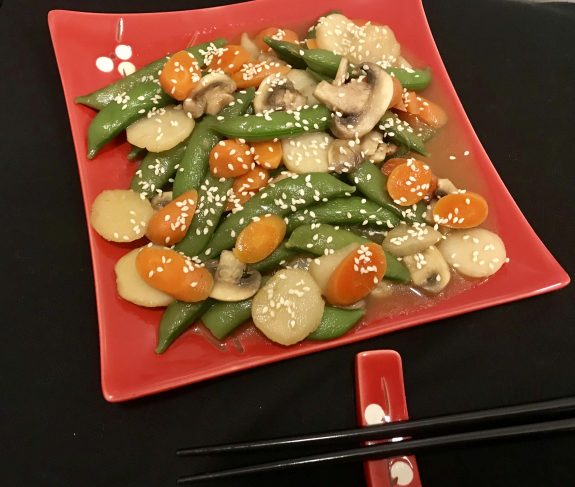 Are you looking a tasty Asian side-dish to accompany your entrée?  Here's one that can bring a tasty twist with a little soy sauce and sesame seeds -you're set!
Ingredients:
1 -12 ounce bag of frozen or fresh snow peas
1 -5 ounce can sliced water chestnuts
3/4 cup sliced carrots
3/4 cup sliced white or baby Bella mushrooms
2 teaspoons vegetable oil
2 teaspoons Arrowroot starch
1 cup vegetable broth
2 Tablespoons soy sauce
2 Tablespoons Sesame seeds
How to make it:
In a medium bowl or large jar with lid, whisk together vegetable oil, vegetable broth and soy sauce.  Set aside the mixture.
Preheat a large skillet or wok on high heat.  Pour the vegetable mixture (from step one) in the skillet or wok.  Add all the cut carrots.  They will take a little bit longer to cook than the rest of the vegetables.  Sauté for 3 minutes, stirring frequently as they boil.
Continue to add the rest of the vegetables and cook on high heat approximately 3-4 more minutes.  Ladle out 1/4 cup of vegetable broth into a bowl, add Arrowroot starch and whisk well with a fork until all the white particles are blended well.  Pour the starch mixture back into the wok and stir again.  The sauce will start thickening and you can put in serving bowl or serve in individual dishes, sprinkle the sesame seeds over the top.   This side dish makes 4 servings.
Average Member Rating
(0 / 5)
0 people rated this recipe