Slow cooker Goulash
2021-01-10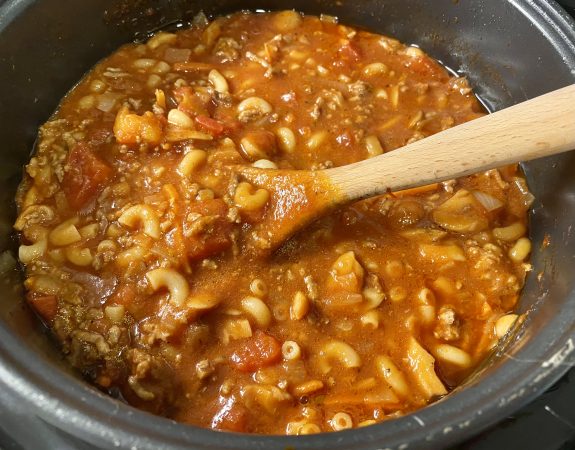 I absolutely love making goulash! I grew up on goulash but I make mine slightly different than my Mom and Dad's recipe. I like mine a little soupy, you can actually soak up the juices with some crusty bread as well. This is so easy you just browned the meat and onions and dump in the rest of the ingredients. Set your slow cooker and walk away. Dinner is ready in 2 to 4 hours. Hope you enjoy my recipe!
Slow Cooker Goulash
1 pound 90% lean ground beef

2 1/2 cups reduced-sodium beef broth

10 ounces dried multigrain high-protein elbow macaroni

1 15-ounce can tomato sauce

1 14.5-ounce diced tomatoes

1 6-ounce can tomato paste

1/2 cup finely chopped onion

1/2 cup shredded carrot

1/2 cup finely chopped bell pepper

1 can 13.25-ounce mushrooms

1 tsp salt

1/2 tsp black pepper

1 tsp Italian Herb mix

1/2 cup shredded cheddar cheese
How to make it:
In a 5- to 6-quart slow cooker combine the first 11 ingredients (through pepper). Stir to break up the ground beef. Cover and cook on high 2 hours, stirring once halfway through cooking.

Sprinkle with cheese. Cover and cook for 10 minutes more, or until the cheese is melted and the pasta is tender. Makes 4-5 servings. 
Average Member Rating
(0 / 5)
0 people rated this recipe