Lentil and Vegetable Soup
2018-11-12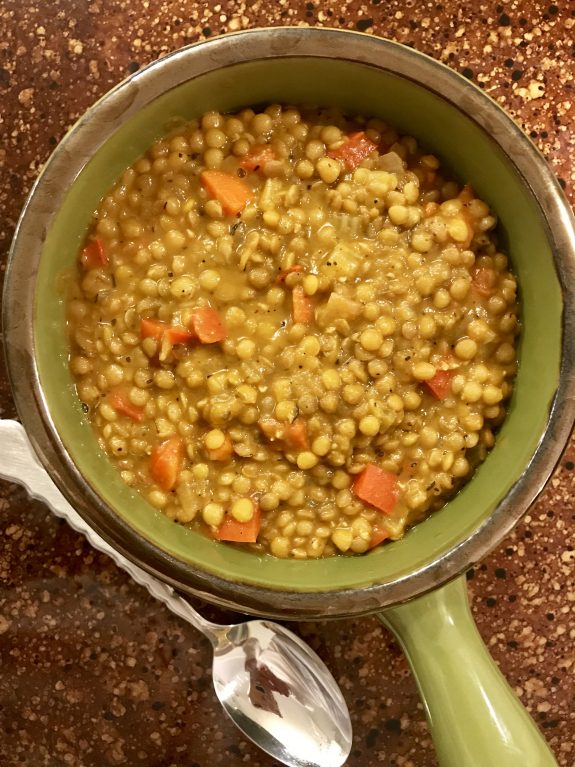 This low calorie soup is rich in iron and folate and has an excellent source of protein.  I used green lentils (small), however if you prefer brown, yellow, red or black -then you can add those instead.  I cooked my soup for hours to make sure the lentils were super tender and they soaked up lots of the vegetable or chicken stock (choose your own stock).  I especially love lentil soup in the winter time because it's hearty and help keep you from feeling hungry.
Ingredients:
1 cup whole small green lentils, sorted and rinsed
3 1/2 cups of low sodium broth (vegetable or chicken)
1/2 cup dry white wine
1 teaspoon black pepper
1 1/2 teaspoon Kosher salt or to taste
2 stalks celery, diced
1/2 yellow onion, diced
1/4 cup red bell pepper, diced
2 carrots, diced
1 Tablespoon tomato paste
1 teaspoon garlic clove, minced
2 Tablespoons vegetable oil
1/2  teaspoon dried oregano leaves
1/2 teaspoon thyme
How to make it:
 In a large stock pot add vegetable oil and turn burner to medium heat.
Add onions, and cook until slightly translucent.  Add celery, garlic and carrots.  Sauté and stir constantly.  Sprinkle with salt and pepper. Add the dry white wine & let simmer for 10 minutes.
Pour broth over the vegetables and add the tomato paste and lentils.  Cook for 45 minutes and turn burner to medium-low heat.  Add the red peppers and continue cooking on low heat for another 15-20 minutes.  Make sure lentils are tender before removing them from the stove.
Salt to taste and serve simple or add toppings of your choice.  -Serves 4 people.
Average Member Rating
(0 / 5)
0 people rated this recipe