Pizza soup
2018-04-23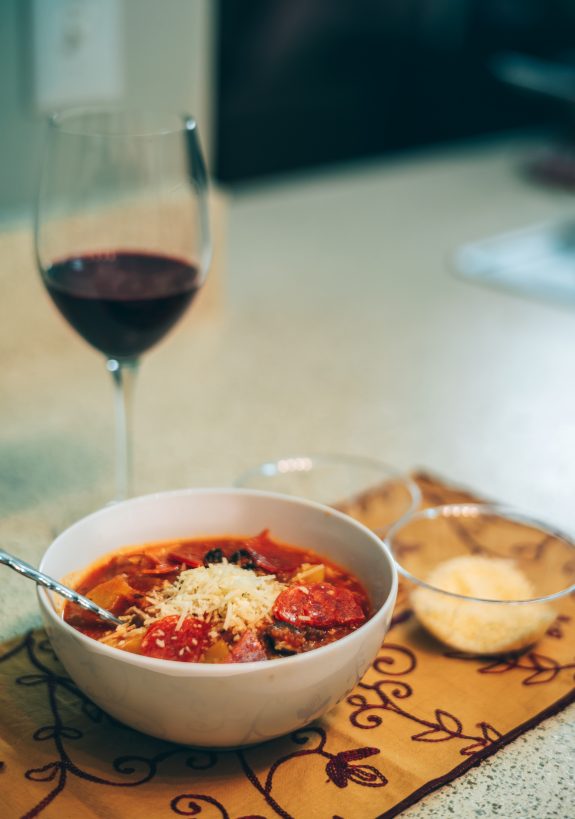 Pizza Soup
Who can resist pizza? Even pizza in soup form is tasty. So get in your kitchen and try this!
Ingredients:
3 tablespoon ghee or butter
3 cloves of garlic, minced
1 teaspoon Thyme
1 teaspoon Basil leaves
1 teaspoon Oregano
1 1/2 teaspoons Kosher salt
1 teaspoon black pepper
1 onion, diced
1 six-ounce can tomato paste
1 can whole tomatoes, 28 ounces, undrained
¼ cup water
1 pound Hot Italian sausage (for non-spicy, use regular Italian sausage)
1 can low sodium beef broth,14 ounces
1 Small orange or red bell pepper, chopped 
10 oz jar sliced mushrooms
1 package pepperoni, 5 ounces
1 can sliced black olives, 3.8 oz
1. In a large stock pot, melt the 1 tablespoon ghee or butter over medium-high heat. Add in the garlic, oregano, thyme, basil, salt, pepper and half of the onion. Sauté for 3-5 minutes or until the onion is translucent. Add the tomato paste, canned tomatoes, and water. Bring to a boil, then reduce the heat and simmer for 20 minutes. Then, put the tomato base into a blender or use an emulsion blender in the cooking pot. Blend until completely smooth.
2. Cook the Italian sausage in a frying pan over medium-high heat. Continuously break apart the sausage into small pieces with a spatula while it cooks.
3. Sauté the bell pepper, remaining onion, and mushrooms in a medium pot for 5 minutes with remaining 2 tablespoons butter. Once onions and peppers are softened, stir in the beef broth. Add this medium pot to the tomato soup base, and Italian sausage. Simmer until ready to serve.
4. While the soup finishes cooking, halve the pepperoni slices, and brown them in a small frying pan over medium high heat. Add the can of black olives to the soup in the large pot. To assemble the soup, ladle it into a bowl and top it with the browned pepperoni and shredded 3 cheese blend: parmesan, Romano and asiago cheeses. 
Average Member Rating
(0 / 5)
0 people rated this recipe