Traditional Bolognese Meat Sauce
2018-11-12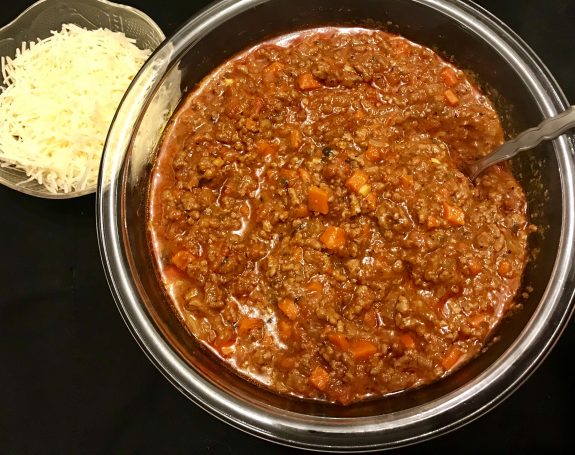 This zesty, rich and hearty Bolognese sauce is all you'll ever need to feed your family that loves Italian food.  It will feed approximately 4 people, however you can double the recipe and freeze any unused portions.
Ingredients:
1 Tablespoon Extra Virgin Olive Oil
2 Tablespoons unsalted butter
1/2 cup yellow onion, chopped
2/3 cup celery, chopped
2/3 cup carrots, chopped
4 garlic cloves, minced
1 Tablespoon of tomato paste
1 teaspoon of dried oregano
2 teaspoons fresh basil leaves, chopped
1 lb. ground beef chuck
1 1/2 teaspoons salt
1 teaspoon black pepper
1 cup whole milk
1 cup dry white wine
1 teaspoon ground nutmeg
28 oz. canned imported Italian plum tomatoes, torn into pieces, with juice
1 1/4 to 1 1/2 pounds spaghetti pasta or you can use spaghetti squash
Freshly grated Parmigiano-Reggiano
How to make it:
Pour oil and add butter in a heavy 3 1/2-quart stock pot and turn heat to medium.  Cook onion, until it has become translucent, then add chopped celery, garlic and carrots.  Cook for 2-3 minutes stirring vegetables to coat well.
Add ground beef, oregano, salt and pepper.  Cook until all the meat turns from red to brown, stirring well and crumbling the meat with a fork.
Add wine and let it simmer until it has evaporated down.
Add tomatoes, tomato paste and nutmeg.  Stir thoroughly until all ingredients are coated well.  Continue bubbling on medium heat. Stir in milk and turn down the heat so that the sauce cooks at the laziest of simmers, with just intermittent bubbles breaking through the surface.  Simmer sauce for 3 hours, covered and continue stirring from time-to-time.  Add chopped fresh basil and stir together.  Adjust salt and pepper -according to taste -if needed. As the meat sauce cooks -skimmer the top of Bolognese sauce for any oil.  Remove any oil residue before serving.
Cook spaghetti according to package directions or use cooked spaghetti squash.  Add the Bolognese sauce over the top of noodles.  Serve with freshly grated Parmesan on the side.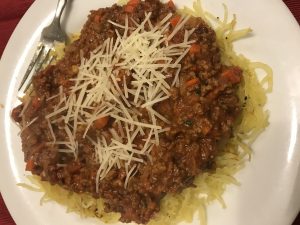 Average Member Rating
(0 / 5)
0 people rated this recipe