Corn on the Cob with Southwest Marinade
2018-08-11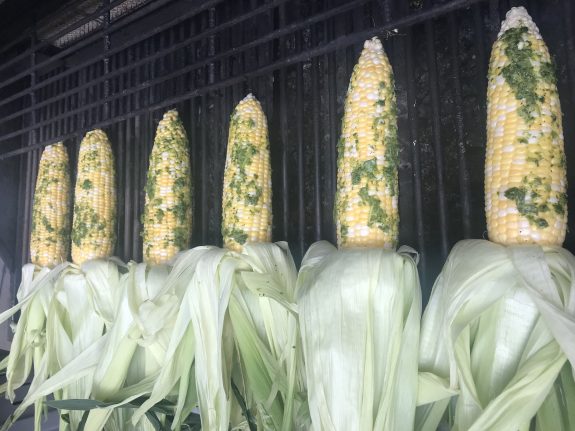 Corn on the cob!  Yes sir!  It seems that corn-on-the-cob is usually the best side dish for any outdoorsy barbeque.  I've created a tasty marinade to enhance the flavor of your corn.  I encourage you to try it!
6 corn on the cobs -remove white threads
1/2 cup Extra Virgin Olive Oil
4 tablespoons unsalted butter
1 jalapeño pepper
2 tablespoons cilantro
1/4 cup yellow onion
1 teaspoon garlic clove
1 teaspoon cumin
1 teaspoon Kosher salt
1/2 teaspoon black pepper
How to make it:
Combine olive oil, cilantro, garlic, cumin, onion, salt and pepper in chopper. Purée until blended.
Melt butter. Add the ingredients from step one into the melted butter.
Take fresh corn, pull back husk to remove white threads inside. I like to keep husk on the corn while grilling. Spread marinade mixture on both sides of corn. Lay the corn on large sheet pan to carry them out to the grill.
Grill the corn on the cob until slightly brown on all sides. The corn will be so sweet and savory. Remove husk after grilling. Serve with corn cob holders.
Average Member Rating
(0 / 5)
0 people rated this recipe