Kale, White Bean & Tomato Soup
2018-08-12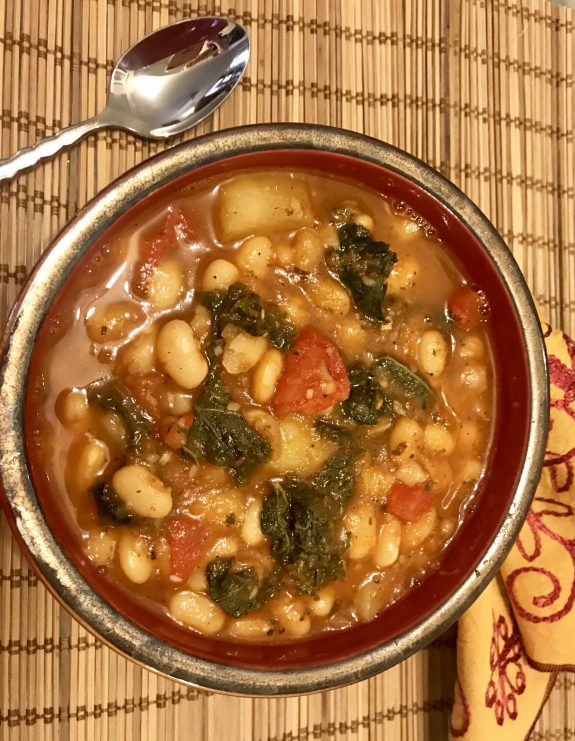 This fabulous vegetable soup will delight your taste buds and warm your tummy.  I made this tasty soup on a cool rainy Sunday afternoon and will have plenty for leftovers and freezing for a later date to eat.  It's full of dark green kale, potatoes, tomatoes and great northern beans.
Ingredients:
16 oz. (1 lb.) Great Northern Beans
3 cups vegetable stock
1 cup water
1/2 cup chopped yellow onion
4 russet potatoes peeled & cubed
4 cups kale, stems removed & leaves chopped
1 -8 oz. can tomato sauce
2 teaspoon Worcestershire sauce
2 teaspoon garlic, minced
2 tablespoon Extra Virgin olive oil
2 Roma Tomatoes, diced
2 Bay leaves
1 teaspoon celery flakes
1 teaspoon oregano
1 teaspoon basil leaves
1 teaspoon parsley flakes
1 teaspoon red chili pepper flakes
2 teaspoon Kosher salt
1/2 teaspoon black pepper
How to make it:
Pre-soak beans in 8-10 cups of cold water for 1-2 hours. Rinse the beans to clean off any debris. Pour beans in crock pot, add water, vegetable stock, salt and pepper.
Cook beans at least 2 hours on high.
While beans are cooking, pour olive oil in saucepan and add onion, garlic and sauté. Add white potatoes and continue to cook, stirring often so potatoes are turning slightly golden in color. Add kale and Worcestershire sauce. Cook down until kale starts to wilt. Set aside with no heat on saucepan.
Stir in these ingredients to the beans: tomato sauce, Bay leaves, celery flakes, oregano, basil leaves, parsley flakes and red chili pepper flakes. Continue cooking in slow cooker, another hour.

 

Then in last hour add potatoes and kale mixture from stove. Toss in the Roma tomatoes. Stir in completely, turn to low heat. Let cook another 10-15 minutes. Serves 4-6.
Average Member Rating
(0 / 5)
0 people rated this recipe