Southwestern Flat Iron Steak
2018-11-27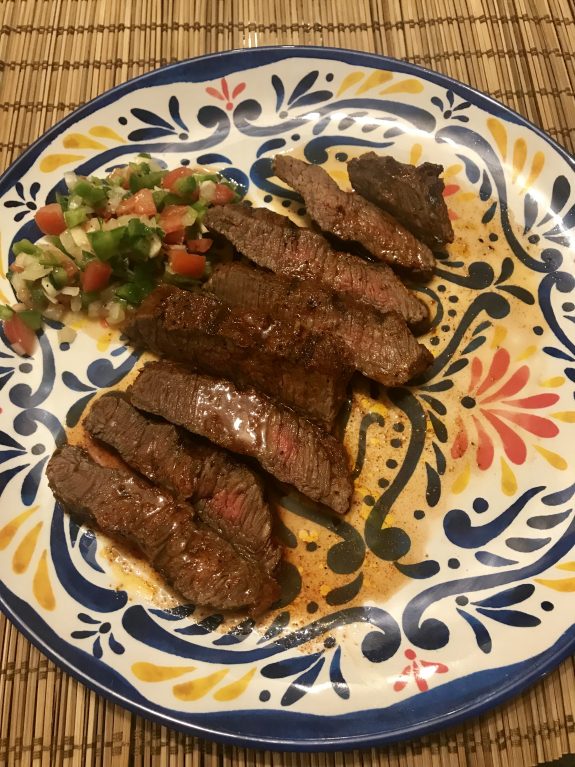 Southwestern Flat Iron Steak is marinated for 2 to 5 hours -and it will melt in your mouth with spicy flavor.  It's cooked on medium high heat and it only takes about 6 minutes to get a medium rare temperature.  I serve this with my homemade Pico De Gallo and other Mexican side dishes.
Ingredients:
2 teaspoons chili powder
1 teaspoon Chipotle Chile powder
1 teaspoon cumin
2 teaspoons smoked paprika
1/2 teaspoon garlic powder
1 teaspoon salt
1/2 teaspoon black pepper
1 teaspoon brown sugar
2 limes (fresh lime juice)
1 Tablespoon vegetable oil or Olive oil
1 -2 lbs. Beef Flat Iron Steak (Grass-fed)
1 gallon zip lock storage bag
How to make it:
Pour all the spices and brown sugar into a bowl, mix together well.
Pat all the spices over both sides of the steak.  Put the steak inside zip lock bag.  Squeeze lime juice over the steak.  Add the oil.
Seal the bag and marinade for 2-5 hours.  When ready to cook, put on a hot skillet, indoor grill or outdoor grill.  Cook approximately 5-6 minutes.  If you prefer rare, then cook 4-5 minutes.  I cook the steak about 5-6 minutes -2 1/2 minutes per side over high heat.
Serve with Pico De Gallo, guacamole or hot sauce.
Average Member Rating
(5 / 5)
1 people rated this recipe