Chicken Piccata with Lemon, Capers and Artichoke Hearts
2018-05-14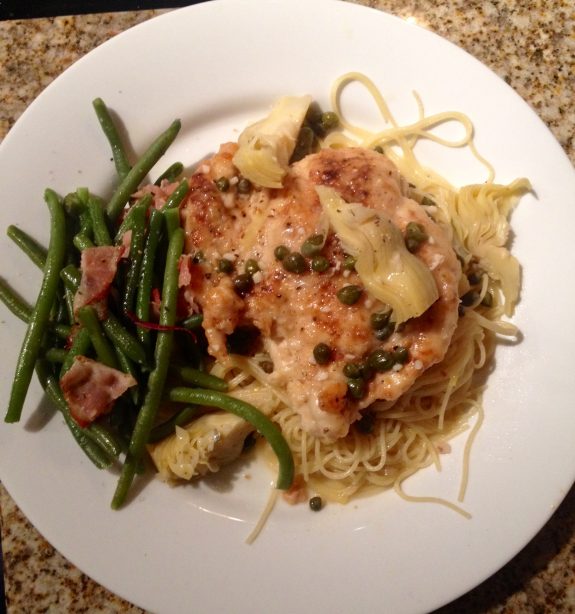 I absolutely love Italian food!  This is one of my favorite recipes!  Hope you enjoy it as much as I do!
Ingredients:
4 (4 ounce) boneless, skinless chicken breast halves
1/3 cup all-purpose flour
1 (14-ounce) can artichoke hearts, quartered
1/4 cup drained capers
1/2 cup reduced-sodium chicken broth
1/2 cup dry white wine*
1/2 teaspoon finely grated lemon zest
1/2 teaspoon paprika
1/2 teaspoon garlic powder
1 teaspoon minced garlic
2 tablespoon Extra Virgin olive oil
1/4 cup fresh lemon juice
16 ounce box of Angel Hair pasta
Salt & ground black pepper to taste
Note: * I use Monkey Bay Sauvignon Blanc wine from New Zealand
How to make it:
Place chicken in zip-top plastic bags and pound with a meat mallet or rolling pin until 1/4 -inch thick.  Remove chicken from bag and season all over with salt & pepper, garlic powder and paprika.  In shallow dish, add flour and chicken to coat.  Shake off excess flour, so that each breast is lighted dusted on each side.
Heat oil in large skillet over medium-high heat.  Add minced garlic and chicken -then sauté 2 minutes per side, until golden brown and cooked through.  Add lemon juice, lemon zest, wine and chicken broth and bring to a simmer.  Simmer 5 minutes, until chicken is cooked through and sauce thickens.  Add artichoke hearts and capers.  Simmer 1 minute to heat through.
Cook angel hair pasta -according to package directions. Serve the chicken and sauce over the pasta.
Average Member Rating
(0 / 5)
0 people rated this recipe