Hosting a BBQ or informal outdoor party? Guidelines for your success!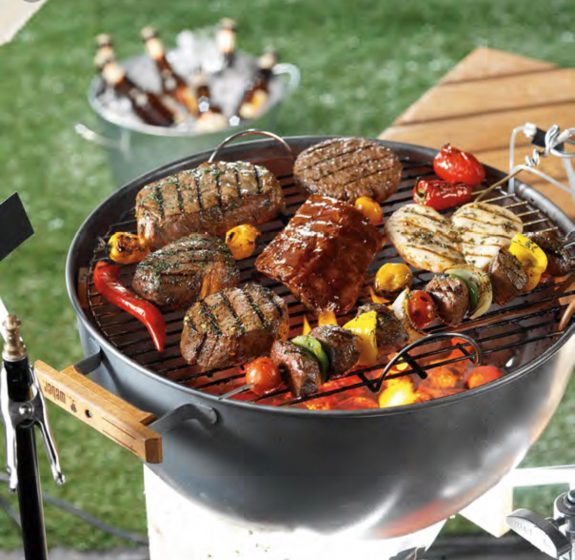 It's that time of year when so many of us are enjoying an informal outdoor barbecue or outdoor party.  If you're hosting that get-together, here are a few suggestions to gauge how much food you'll need.  Generally each adult will consume 1 pound of food total; children, about 1/2 pound.  The more options you have, the less you need of each; decrease the main course portion sizes by 1 to 2 ounces if served on a buffet.  Guests will always eat -and drink -more at night than during the day.
Cocktails: You can either stock your bar with mixed drinks served punch-style or a do it yourself array of alcohol and mixers.  One 1-liter bottle of alcohol will make 22 mixed drinks. If you have guests that prefer wine, allow for, 1 bottle of wine per 8 guests.  Generally speaking, white wine is more popular in the summer months than red wine.   You can have a selection of beer -always best to have foreign and domestic beer on hand. Don't forget your ice and garnishes.  Buy 2 pounds of ice per guest and a large amount of lemons and limes.
Hors D' oeuvres and Appetizers:  If you'll be serving appetizers for your guests, assume each person will eat 4 to 6 bites per hour.  For a cocktail hour preceding a larger meal, 6 bites per person is a total safe estimate.  Err on the side of variety, that will ensure happy guests.
Main entrée: Plan on serving each adult 6 to 8 ounces of meat or seafood for main course.  If you're purchasing a store-bought hamburger patty -that is about 6 ounces.  Smaller grill staples like hot dogs, ribs chicken legs and thighs each run 1 1/2 to 4 ounces each.
Side Dishes:  It's always a good idea to incorporate a slew of side dishes to your main entrée for your guests. No need to go overboard on portion sizes.  Pasta salad, baked beans, coleslaw and potatoes can feed a large crowd.  Consider leafy greens and salads as well. Grilling vegetables like:  Zucchini squash, red bell peppers, Portabella mushrooms and even watermelon go great with any summer time cook-out.
Condiments:  No cook-out is complete without mayo, mustard, ketchup, barbecue sauce and relish.
Desserts:  Consider baking cookies, watermelon slices, fresh fruit bowls or ice cream (4 ounces per guest) in cups.  Cakes can be good too, but pre-slice it for your guests so it is less messy.
Now, you are party ready with these helpful tips.