Pickled Red Onions
2018-07-29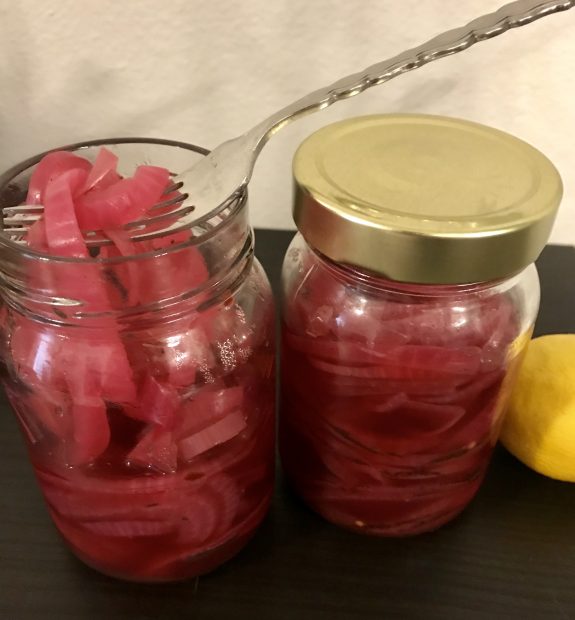 I believe the world revolves around pickled foods.  I love pickles, pickled jalapenos and pickled red onions. You could probably see 2-4 pickled condiments in my refrigerator at any given time.  These are my number one condiment to put on my pulled pork, salads or Mexican food entrees.  They are very easy to make and only take a few minutes to assemble the ingredients.  I cut the red onions in round moons because I like the way the look in the jar.  The onions are also easier to scoop from the jar this way too.
Ingredients:
1 large red onion, about 7-8 ounces
1 teaspoon sugar
1 teaspoon salt
1 cup of red wine vinegar
1 cup of rice vinegar
1 small clove of garlic, halved
10 black or multi-colored peppercorns
1 teaspoon allspice
3 small sprigs of thyme (optional)
1 pinch of dried chili pepper flakes (optional)
2 quantity 16 ounce clean jars
How to make it:
Slice the onions in into round moons.  Peel and cut the garlic clove in half.
Combine in medium saucepan:  vinegars, sugar, salt, allspice and optional thyme and chili pepper flakes. Bring mixture to boil.  Gradually add the red onions and garlic. Simmer for another 30 seconds and pull away from heat.  Let mixture cool approximately 10 minutes.
Add the onions to the jar with tongs and stir gently to evenly distribute the flavorings. Make sure the garlic clove is in each jar.
The onions will be ready in about 30 minutes, but are better after a few hours. Store in the refrigerator. Label jar with onions and date. They will keep for several weeks, but are best in the first week.  Do not use after 60 days.
Average Member Rating
(0 / 5)
0 people rated this recipe