Recipes from Ingredient:
allspice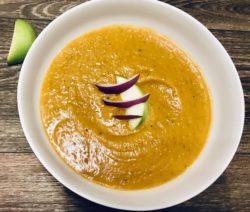 When the weather starts getting chilling outside, I start gravitating towards my soup recipes.  This delicious roasted acorn squash soup will warm up your entire body.  It's so healthy, low on calories, vegetarian and vegan appealing.  In the fall, you will start seeing squash on sale at every grocery store ...
Read more
I believe the world revolves around pickled foods.  I love pickles, pickled jalapenos and pickled red onions. You could probably see 2-4 pickled condiments in my refrigerator at any given time.  These are my number one condiment to put on my pulled pork, salads or Mexican food entrees.  They are ...
Read more