Skinny Margaritas
2018-09-20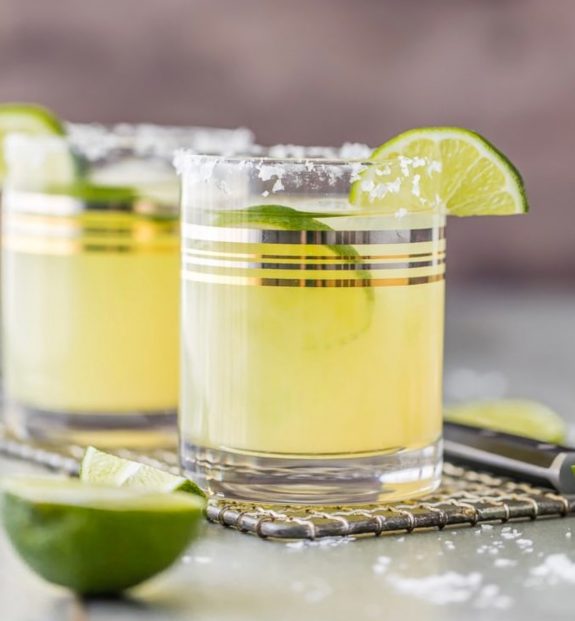 Margaritas are not just for happy hour anymore.  I love to sip on this tasty cocktail when I'm making Tex-Mex food, my Southwestern Turkey Burgers and eating tacos. After trying various sweet-and-sour mixes from the liquor store and most of them gave me a stomachache, I decided to create my own healthy sweetened real lime juice mix.
Ingredients:
2 ounces Tequila (100% Puro Agave, Reposado or Anejo)
Kosher salt or Margarita salt
2 ounces fresh lime juice (2 limes)
1 ounce fresh orange juice (half an orange)
1 teaspoon light agave nectar
1 lime wedge or round, for garnish
Lowball glass
How to make it:
Pour a layer of salt on a small plate (find a plate slightly larger than the top of your margarita glass).  Slice off a small piece of lime and run the wet edge of the slice along half the rim or the entire rim (if desired).  Dip the top of the glass into the salt at a 45 degree angle and roll it from side to side to catch the salt.
Fill a small cocktail shaker with ice.  Pour in the tequila, lime juice, orange juice and agave nectar.  Put on the lid and shake for 30 seconds.  Uncover the lid and pour the liquid into your glass and garnish with lime slice.
Average Member Rating
(0 / 5)
0 people rated this recipe