Southwestern Turkey Burgers
2018-09-19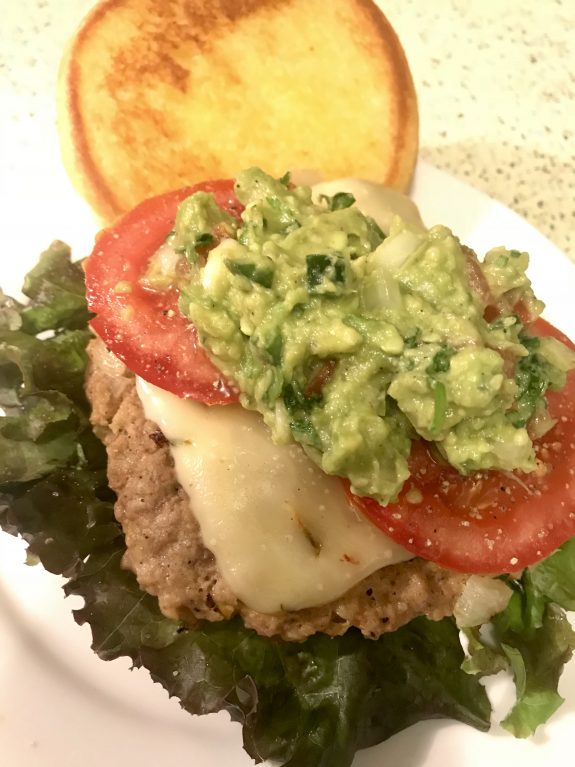 My zesty southwestern turkey burgers are packed with that spicy goodness!  Bite after bite -you will taste the bell peppers, serrano and chipotle flavors.  You can serve with guacamole, pico de gallo or my pickled jalapeño peppers.   I covered my turkey burger with hot pepper jack cheese and my homemade guacamole in this photo.
Ingredients:
1 pound ground dark meat turkey
1/3 cup yellow onion, minced
1 teaspoon minced garlic
1 serrano pepper, (ribs and seeds removed for less heat, if desired) and minced
1/4 cup plain dried breadcrumbs
1/2 teaspoon cumin
1/2 teaspoon chili powder
1/2 teaspoon chipotle chili powder
1 teaspoon smoked paprika
1 teaspoon salt
1/2 teaspoon pepper
1 egg
non-stick cooking spray for cooking burgers
Toppings:
artesano bakery buns or butter hamburger buns
lettuce
sliced tomato
pepper jack cheese
avocado
How to make it:
Place turkey, onion, garlic, serrano pepper, spices, egg and dried breadcrumbs in a large bowl and mix together until all the ingredients are incorporated.
Now, with clean-washed hands -tear off 2 sheets of parchment paper to approximately 10 inches. Divide the turkey mixture into 4 equal parts, form patties and stack on paper. Then press the parchment paper down to flatten the patties to match the bun size.  Cut around each patty with scissors and now you have 4 patties in parchment paper on top and bottom.
Heat up a skillet on medium heat, indoor grill or outdoor grill.  Spray non-stick cooking spray on the top.
Cook burgers for 3 minutes on the first side, then flip and continue to cook them for an additional 5 minutes.  Top with pepper jack cheese during the last minute.
Note: The turkey burgers must be cooked through.  Use a meat thermometer to check each patty for an internal temperature at least 165 degrees F before removing them from pan.
Assemble the burgers as desired with bun, lettuce, tomato, avocado and preferred condiments.
Enjoy.
Average Member Rating
(0 / 5)
0 people rated this recipe