Sour Cream Chicken Enchiladas
2018-05-14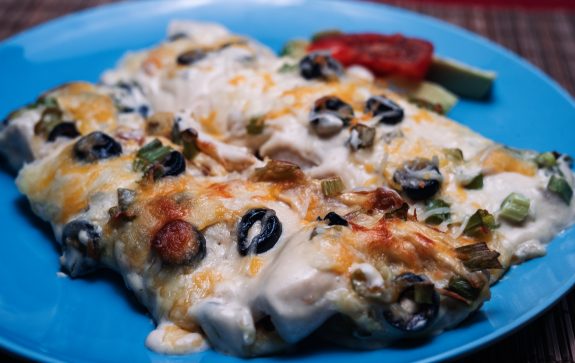 This is one of my favorite Mexican food recipes.  Creamy goodness!  Try it with my Pico de Gallo tomato salsa.
Ingredients:
2 cups Colby cheese shredded
1/2 cup chopped green onions
12 tortillas (1 pkg.)
2 cans cream of chicken soup
1 (16-ounce) sour cream
1 small can diced green chilies
1/2 teaspoon sal
2 cans sliced black olives
How to make it:
Preheat oven to 350 degrees
Combine 1/2 cheese, onions and olives.  Set aside a few onions and black olives. Prepare tortillas for rolling.
Mix soup, sour cream, chilies and salt into medium sauce pan. Cook over medium heat, stirring often until mixture is bubbling.
Pour some soup mixture to a 9 X 13 inch baking pan. Just a little bit to cover the bottom.  Set rest of soup mixture aside.
Fill tortillas (with ingredients from step 1), roll and place fold side down on top of the soup mixture in the 9 X 13 inch pan.
Pour remaining soup mixture over the rolled tortillas. Cover well.  Sprinkle with remaining cheese, the remaining green onions and some black olives.
Bake for 30 minutes or so in 350 degree oven. You will see bubbling cheese on top when ready.
Average Member Rating
(0 / 5)
0 people rated this recipe