Best Borracho Beans
2018-07-29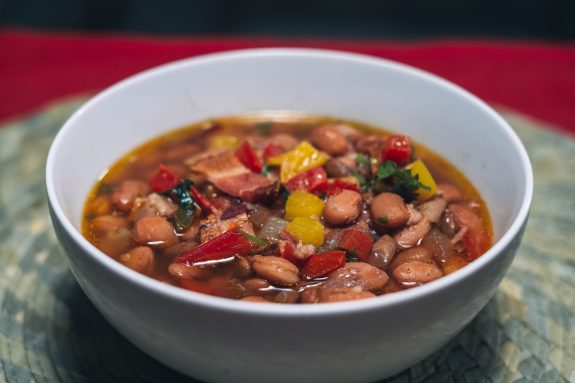 These are the best borracho beans ever! It will be make 2 large pots of beans.  Serves a big crowd or you can put in freezer safe containers, they store really well in the freezer to save for another occasion. You will need to soak your beans the day before cooking them in 8-10 cups of water. The beans start to swell and this will make your beans very tender too.  This recipe is perfect for a pulled pork entrée, brisket or hamburgers.  I sometimes enjoy as a meal with brown rice and a big salad on the side.  Try these beans!
Ingredients:
2 lbs pinto beans
2 small yellow onions
2 fresh jalapenos
6 garlic cloves, minced
4 small Roma tomatoes
1 yellow or orange bell pepper
2-3 ham hocks
2-3 tablespoons fresh cilantro, chopped
1 tablespoon chili powder
2 teaspoons paprika
2 teaspoons cumin
1 tablespoon black pepper
1 1/2 tablespoon Kosher salt
1 teaspoon red pepper flakes
4-6 slices of bacon and drippings, cut into small bite sized pieces
32 ounces of low sodium chicken stock
12 ounces of Shiner Bock beer (or other dark beer you prefer)
Directions:
Soak your beans.  (This if very important if you want tender beans). If you don't have them pre-soaked the day before, then bring beans to boil in 8 to 10 cups of water. Remove from heat covered.  Let beans soak for 45 minutes until the beans start to swell from the water infusing into them.
Strain the beans. This will clear the debris out of the beans before cooking them.
Pour beans into 2 large pots or one large slow-cooker.  Add the chicken stock into 2 pots divide the chicken stock or one large pot (slow cooker). Add spices, ham hocks and bacon.  I like to cook beans approximately 2-3 hours.  Remove the ham hocks and pull any meat off of them, cut into bite-sized pieces and redistribute with the beans. Be careful not to leave any bones or fat in the beans from the ham hocks.
Once the beans have been boiling for a couple of hours, add the garlic, orange bell pepper, Roma tomatoes, cilantro. Simmer for another 2 hours.  Taste, add more seasonings if needed.
Average Member Rating
(0 / 5)
0 people rated this recipe