Seared Ahi Tuna with Ginger & Soy Sauce Marinade
2018-10-01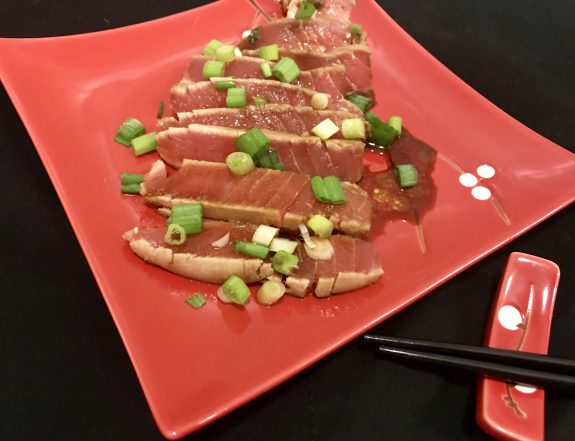 Yellowfin tuna is also called Ahi Tuna.  This Asian inspired marinade will be the right sauce to give you the ultimate taste you desire.  I use soy sauce, sesame oil, ginger and garlic with fresh lime juice and green onion and use my indoor grill.  If you don't have an indoor grill, then pan sear it for 1 to 2 minutes on each side.   You want it slightly seared on the outside, but red or pink on the inside.  If you cook tuna too long it is dry and loses flavor.
Ingredients:
2 (6-8 ounce) ahi tuna steaks (3/4 of an inch think)
1 Tablespoon agave nectar
2 Tablespoons sesame oil
2 Tablespoons low sodium soy sauce
1 Tablespoon of grated fresh ginger (or use ginger paste)
1 clove garlic, minced
1-2 green onions (scallion) thinly sliced (a few slices reserved for garnish)
1 teaspoon of a fresh lime juice
How to make it:
Mix the marinade ingredients together in a small bowl and whisk together thoroughly. Pour mixture over the tuna steaks and marinade for 1 hour in the refrigerator, covered tightly.
Preheat an indoor grill or heat a non-stick skillet over medium heat to high heat.  When pan is hot, remove the tuna steaks from the marinade and sear them for a minute to two minutes on each side.
Remove from pan and slice into 1/4-inch thick slices.  Sprinkle with a few green onions and any left over marinade.  Serve immediately.
Average Member Rating
(5 / 5)
1 people rated this recipe