Spicy Cajun Crackers
2019-01-03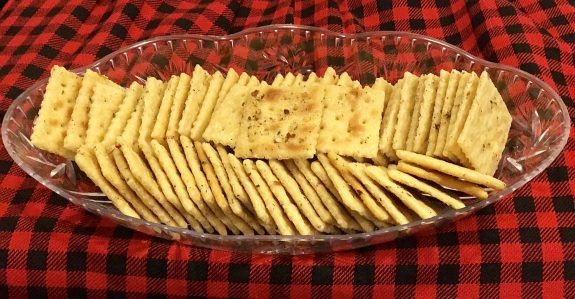 Just about every party has crackers… these spicy Cajun Crackers will be so yummy!
Ingredients:
1 Box Saltines (Not Fat Free) I use Wheat!
1 1/2 cups canola oil
1 pkg. Hidden Valley Ranch Dressing mix
1 teaspoon red pepper flakes (crushed)
1 Tablespoon Tony's original Creole Seasoning
1 teaspoon onion powder
1 teaspoon garlic powder
How to make it:
In a medium bowl mix together canola oil, Ranch Dressing, red pepper flakes, Tony's, onion and garlic powder.
Stand the crackers up in a 9 X 13 inch pan and another container smaller with a 2-3 inch lip. Pour spicy mixture over all the crackers. I would suggest you find 2 containers with lid.
If you have crackers in container with lid, put the lid on and turn upside down so that mixture can cover all crackers. Continue flipping every 15 minutes for up to one hour. Let mixture set overnight and serve on pretty platter.
Average Member Rating
(0 / 5)
0 people rated this recipe