Bourbon Bacon Balls
2018-12-14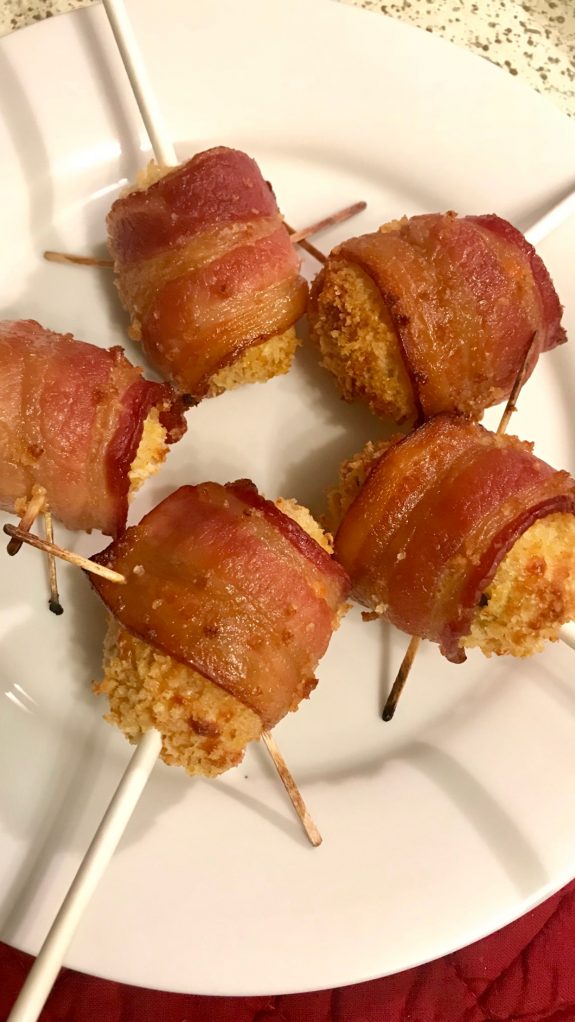 There are days that ideas just come to me and pop in my head.  This idea originated on a short road trip from Dallas to Austin -when I was thinking about things I like to eat -like sausage balls.  Although this recipe is quite different, the sausage balls are originally what inspired me to create this appetizer.
Ingredients:
1 pound of ground chicken
2 cups of all-purpose flour
4 1/2 teaspoons baking powder
1 teaspoon salt
1/2 teaspoon ground cayenne/red pepper
3 tablespoons melted butter
8 ounces of sharp cheddar cheese, grated
4 ounces of Pecans, chopped
1/2 cup of pickled jalapenos (see my recipe, this is optional ingredient)
2 eggs, beaten thoroughly
1 cup Panko bread crumbs
2 packages of bacon
1 cup of bourbon
1/2 cup brown sugar
tooth picks -for holding bacon into place on the balls
lollipop sticks
How to make it:
Preheat oven to 400 degrees.
In a large bowl, whisk together flour, baking powder, salt, cayenne/red pepper and butter. Add grated cheese and toss to coat.  Crumble up the chicken into the bowl -using your (clean) hands, combine well. The best way to full incorporate the mixture is to squeeze and squish, almost kneading it together.  It takes a few minutes but it works.  Add the nuts and pickled jalapenos to the mixture.
Firmly roll into approximately 1 1/2 -inch balls.
Take bacon strip and cut in half, then put into a shallow bowl (sheet pan).  Pour the bourbon over the bacon and then add the brown sugar.  Let soak for approximately 5 minutes.
Take each chicken ball, dip into egg mixture.  Then roll the ball into the Panko bread crumbs to cover.  Once that is completed, pull out 1/2 of strip of bacon from the bourbon mixture and pin on the little ball with a couple of toothpicks.
Lay each ball on a metal rack, covering a sheet pan about 1 inch or so apart.  I would recommend you put foil over the sheet pan because the bourbon drips and causes smoke inside the oven.  (Note:  I learned this the hard way!)  If you don't have a metal rack, then spray the sheet pan or the foil with non-stick cooking spray.
Bake for 15 minutes, then open the oven and turn all of the balls over with tongs to cook in the other side.  Bake for another 5-10 minutes, checking periodically to ensure the bacon is cooked.
Once the balls are finished cooking in the oven, poke a lollipop stick inside them.  If you have a party, buy the cake pop stand and display your Bourbon Bacon Balls.  I found my stand at Hobby Lobby.
Average Member Rating
(0 / 5)
0 people rated this recipe