Crispy Greek Chicken with lemon, artichoke hearts, kalamata olives & capers
2018-04-23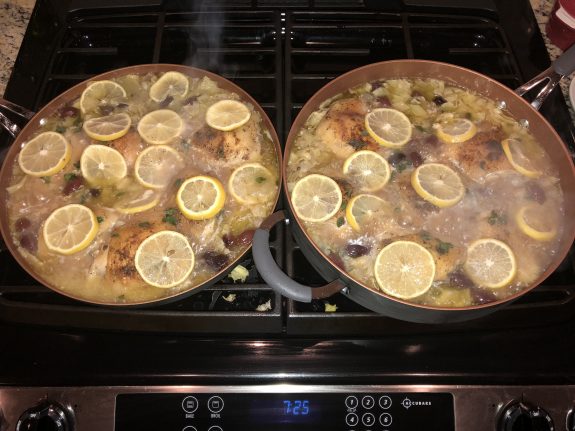 This is a delicious Greek chicken dish that is easy to make and is always popular with company.
Ingredients:
1 tablespoon granulated garlic
1 teaspoon sea salt or Kosher salt
1/2 teaspoon black pepper
1 teaspoon dried oregano
2 pounds chicken thighs
2 tablespoons ghee or Extra Virgin olive oil
1/2 yellow sweet onion, peeled and chopped
1 teaspoon minced garlic
1/4 cup capers with brine
1/2 lemon, thinly sliced
1/4 cup white wine
3 cups low sodium chicken broth
2 cups of canned artichoke hearts
1 cup Kalamata olives
1 1/2 teaspoons chopped fresh oregano
Angel Hair pasta (optional)
How to make it:
In a large bowl, combine the granulated garlic, 1/2 teaspoon of the sea salt and the dried oregano. Add the chicken thighs and rub the seasoning into the chicken until evenly coated; set aside. You can also cover and refrigerate the chicken thighs and marinate for 2 to 24 hours.
When you're ready to cook the chicken, heat the ghee or oil in a cast-iron skillet or sauté' pan over medium-heat.
Remove the marinated chicken from the bowl and using paper towels, pat the chicken thighs dry. Place the chicken thighs, skin side-down in the hot ghee or oil, spacing them evenly, and cook for 6 to 8 minutes, until the skin or skinless thigh begins to brown. Turn the chicken thighs and brown on the opposite side for 5 minutes. Remove from the skillet and set aside.
In the same skillet over medium heat, add onion, minced garlic, capers, and the remaining 1/2 teaspoon sea salt and pepper. Cook for 5 minutes, stirring occasionally. Add the lemon slices.
Add the white wine and deglaze the skillet, stirring to loosen any browned bits stuck to the bottom. Bring to a simmer and let cook for 5 minutes.
Add the chicken broth, return the thighs to the skillet, and bring to a simmer. Simmer for 5 minutes.  Add the artichoke hearts and olives and continue simmering for 10 minutes.
Remove the chicken thighs from the skillet and roughly chop. Add the chicken meat back into the skillet and stir to distribute evenly. You can serve over angel hair pasta or scoop the stew into serving bowls and garnish with the chopped fresh oregano.
Wine suggestion for recipe: Santa Margherita Pinot Grigio
Average Member Rating
(0 / 5)
0 people rated this recipe