Halibut with Crispy Shallots and Lemon Butter Sauce
2018-07-08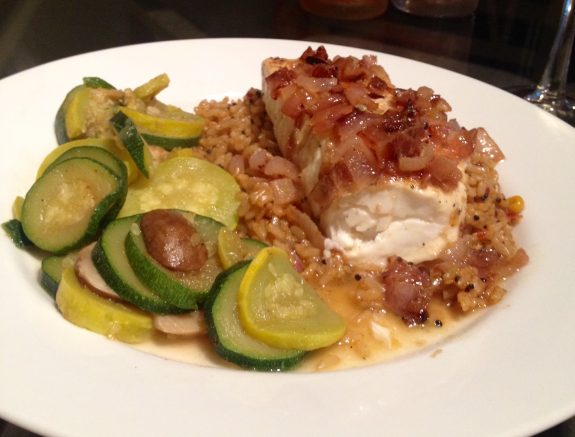 Halibut is one of my favorite fish dishes.  I look for sales on this delicious fish.  Here's a recipe that will rock your world!
Lemon Butter Ingredients:
1 tablespoon fresh lemon juice
zest of 1 large lemon
1/4 teaspoon Kosher salt
1/4 teaspoon ground black pepper
1/2 stick of unsalted butter, softened at room temperature
Halibut and Crispy Shallots Ingredients:
4 halibut filets (4 to 5 ounces each)
2 large shallots, cut into rounds, separated into rings
1/4 cup extra-virgin olive oil
2 tablespoons fresh lemon juice
1/2 cup vegetable oil
1/4 teaspoon Kosher salt
1/4 teaspoon ground black pepper
2 cloves garlic, smashed
Lemon wedges, for garnish
How to make it:
Start with the lemon butter ingredients:  Whisk together the lemon juice, salt, pepper and lemon zest in medium bowl.  Then add the butter and mix together.  Set aside until ready to use.
Halibut and crispy shallots:  Combine the olive oil, lemon juice, garlic, salt and pepper into an 8 X 8 X 2 inch glass baking dish.  Whisk the marinade to blend.  Add the halibut and turn several times to coat evenly.  Let stand approximately 20 minutes.
In a medium saucepan over medium-high heat, add vegetable oil and gently cook the shallots until slightly brown.  Transfer cooked shallots with slotted spoon onto several layers of paper towels to drain and crisp.  Sprinkle with salt and pepper.
Heat a large nonstick skillet over medium heat.  Lift the halibut from the marinade and add halibut to hot skillet, sear on both sides approximately 3 to 4 minutes. If the fish is 1 inch thick, cook 3 minutes and if it's a little bit thicker, then cook 4 minutes on each side.
Once the fish is finished cooking, then transfer to plates and put a generous dollop of the lemon-butter sauce and pile on the shallots.  Sprinkle some shallots around the fish too.
Garnish with lemon wedges and serve.  Recipe yields 4 servings.
Average Member Rating
(5 / 5)
1 people rated this recipe