Crispy Spicy Chicken Wings
2018-09-30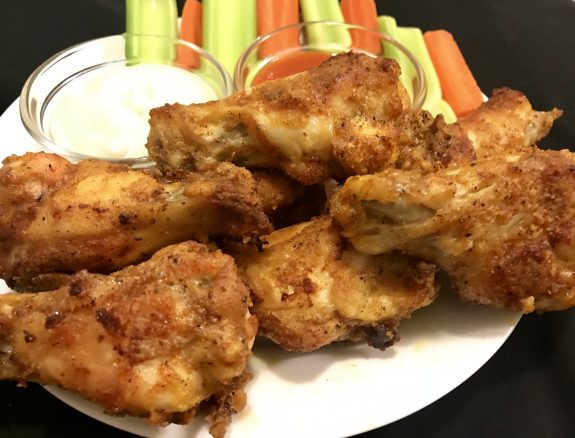 My all time favorite "tail gate food" is crispy chicken wings.  I love my wings spicy, crunchy and very flavorful.  You have no idea how many wing cooking sessions I tackled before I came up with this perfect recipe. I call it the dry rub, and when it's finished cooking -then you can dip in your favorite wing sauces:  Blue Cheese Dressing, Ranch Dressing or Buffalo & Wing hot sauce.
Ingredients:
10 chicken wings, tips removed
1/3 cup all purpose flour
1 tablespoon smoked paprika
1 teaspoon garlic powder
1/2 teaspoon salt
1 teaspoon black pepper
1/2 teaspoon cayenne pepper
5 tablespoons butter
How to make it:
Preheat oven to 425 degrees.  Be sure the wings are thawed.  Pat them dry with paper towels.
Combine flour, paprika, garlic powder, salt, black pepper and cayenne pepper in a bowl.  Whisk it together with fork -to ensure all spices and flour are mixed thoroughly.
Take a gallon sized plastic bag, use thongs to put wings inside plastic bag.  Then dump the spices/flour mixture in the bag.  Zip lock it tight and shake well to ensure all the wings are covered completely.
Take a medium sized sheet pan or a oven pan with at least a 1 inch lip.  Cover with aluminum foil.  Cut 5 equal tablespoons of butter and spread evenly on the pan.  Put the pan in the oven for 2-3 minutes -just so the oven melts the butter.
Once the butter has melted, add the wings and spread evenly over the pan.  Bake for 30 minutes.
Turn the wings over and bake for another 12 minutes.  They should be crispy and done.  Pour some of your favorite sauces to dip the wings.  Serve with raw carrots and celery stalks.
Average Member Rating
(5 / 5)
3 people rated this recipe