Sausage & Egg Casserole
2018-04-25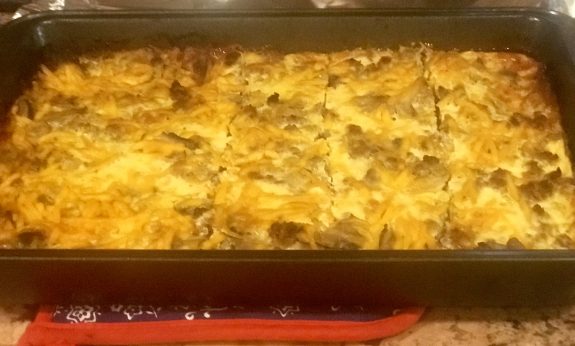 This is my all time favorite breakfast casserole.  It's something special.  Our family used to eat it almost every Christmas morning -so it's always memorable -but tasty too.  Hope you can share with your family or friends.  Enjoy!  Important note:  Start this casserole the night before you serve, it's supposed to refrigerate overnight.
Ingredients:
1 lb mild sausage -brown & drain
3 slices of bread -toasted and crumbled
6 large eggs -beaten
2 cups of milk
1 teaspoon salt
1/2 teaspoon pepper (or more to taste)
1 small jar sliced mushrooms -drained
10 oz cheddar cheese -grated
1/2 cup yellow onions (chopped)
1 small can mild chopped green chilies
How to make it:
Mix all ingredients together in large bowl.  Pour into a greased 13 X 9 inch baking dish.  Refrigerate overnight. Place in cold oven -set at 350 degrees.  Bake 45 minutes to 1 hour. Slide a toothpick inside casserole -to make sure it comes out clean -that's when you know it's finished baking.
Average Member Rating
(0 / 5)
0 people rated this recipe