Shrimp and White Bean Saute'
2020-04-29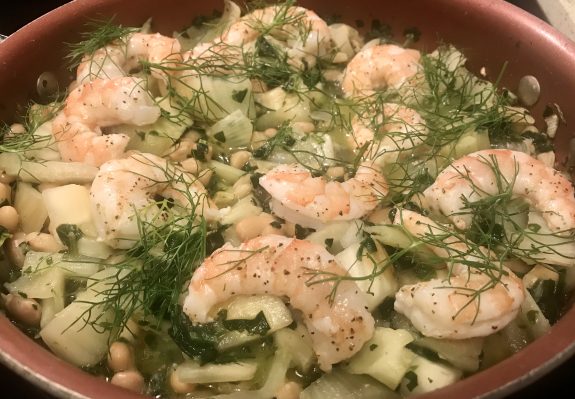 Are you looking for a quick and low-fat shrimp dinner?  I think this one fits the bill!  On busy nights, I can whip up this recipe in about 20 minutes flat.  It's delicious and only 240 calories per serving.
Ingredients:
 1 fennel bulb, diced up in small pieces -safe fronds.
 1/3 cup extra virgin olive oil, divided
 1 lb. large shrimp, peel and deveined
 1 large garlic clove, minced
 1 can (15 oz.) can cannellini or navy beans, drained
 1/4 cup red wine vinegar
 4-6 cups fresh spinach (chopped) or 2 cups frozen spinach, (chopped)
 1 teaspoon salt
 1/2 teaspoon black pepper
How to make it:
 Trim fronds from fennel stalks. Finely chop fronds to measure 1 tablespoon; set aside.
 In a large skillet heat 2 Tablespoons of the oil over medium heat -add fennel and beans, cook 2-3 minutes. Then add spinach.  Season with salt & pepper.
Add shrimp and garlic; cook 3 minutes -covered until shrimp are opaque.  Stir in remaining oil and vinegar and remove from heat completely.
 Serve warm and try with a good Sauvignon Blanc wine.
Average Member Rating
(0 / 5)
0 people rated this recipe