Shrimp Scampi with Linguini
2018-08-22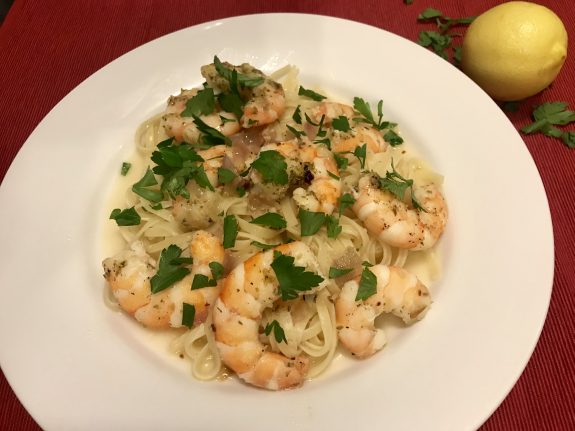 Did you know that the pilgrims ate shrimp and other seafood at their first Thanksgiving?  I love making shrimp scampi because it's easy and so elegant looking.  I highly recommend buying fresh shrimp (not frozen) and getting the larger size when making this recipe.  You won't regret it and your family or guests will appreciate it too -if you're sharing.  This recipe makes enough for 2-4 people.
Ingredients:
16 ounces linguini
4 tablespoons butter
4 tablespoons extra-virgin olive oil
2 shallots, finely diced
2 teaspoons garlic, minced
Pinch red pepper flakes, optional
1 pound shrimp, peeled & deveined
1 teaspoon dried oregano
Kosher salt
Black pepper
1/2 cup dry white wine (Cupcake vineyards) Sauvignon Blanc is one I recommend
Juice of 1 lemon
Zest of 1 lemon
1/4 cup finely chopped fresh parsley leaves or Basil leaves
How to make it:
For the pasta, put a large pot of water on the stove to boil. When it has come to the boil, add 1 tablespoon olive oil (to prevent pasta from sticking together) and a couple of teaspoons of salt and the linguini. Stir to make sure the pasta separates; cover. When the water returns to a boil, cook for about 6 to 8 minutes or until the pasta is not quite done. Drain the pasta.
In a large skillet, melt 2 tablespoons butter in 2 tablespoons olive oil over medium-high heat. Saute the shallots, garlic, and red pepper flakes (if using) until the shallots are translucent, about 3 to 4 minutes. Season the shrimp with oregano, salt and pepper; add them to the pan and cook until they have turned pink, about 2 to 3 minutes. Remove the shrimp from the pan; set aside and keep warm.

 

Add wine, lemon juice, lemon zest and bring to a boil. Add 2 tablespoons butter and 2 tablespoons oil. When the butter has melted, return the shrimp to the pan along with the parsley and cooked pasta. Stir well and season with salt and pepper. Serve over linguine pasta. You can also drizzle a little bit of olive oil over the entrée.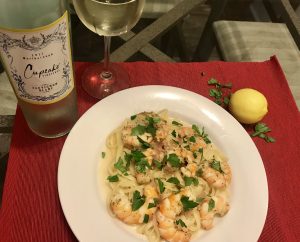 Average Member Rating
(0 / 5)
0 people rated this recipe