Pimento Cheese Potato Skins
2013-01-06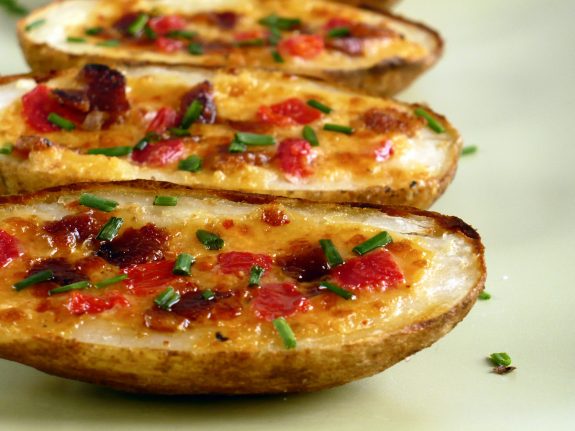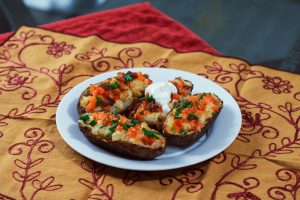 If there's anything better than the perfect baked potato, it would have to be a twice baked potato. I'm sure everybody's Mom, Grandma or next-door neighbor has a recipe for double-stuffed potatoes; after all, if you can bake a potato and make mashed potatoes, you're pretty much halfway there. See, it's not so much about how you make them, as it is about what's inside.
Ingredients:
6 medium russet potatoes
8 ounces sharp cheddar cheese
2 ounces cream cheese, softened
1 teaspoon red bell pepper, diced into 1/4 inch pieces
3 tablespoons melted butter
3 tablespoon fresh chives, chopped
1/2 cup sour cream (optional)
4 slices bacon, cooked until crispy and crumbled (optional)
Kosher salt & pepper
1 tablespoon Extra Virgin Olive Oil (oil the potatoes)
How to make it:
Preheat oven to 350 degrees.  Wash the potatoes really good under water to clean off any debris.  Pat dry with paper towels.
Toss a little bit of olive oil over the potatoes and generously cover all sides.  Place on baking pan.  When oven has reached 350 degrees, place potatoes in oven and bake for 1 hour.
While potatoes are baking, chop up red bell peppers and chives.
When the timer goes off for the potatoes, pull out and let them cool slightly.  Cut them half length-wise and take a soup spoon to scoop out the potatoes out of the shell of the skin.  Leave enough skin so that it will have a strong wall to fill mixture again.
Toss the potatoes that you scooped out into a medium bowl.  Add half the sharp cheddar cheese, cream cheese, butter, salt and pepper -then mix well.  Fill each potato skin with this mixture.  Sprinkle the rest of the sharp cheddar cheese on top.  Bake for 10 more minutes -or until you see the cheese bubbling on top of the potatoes.  Top each baked potato with chives, sour cream and cooked bacon bits (entirely optional).
Note:  This recipe can be made vegetarian if you leave out the bacon.
Average Member Rating
(4.4 / 5)
226 people rated this recipe