Snowcapped Gingerbread Cookies
2019-01-03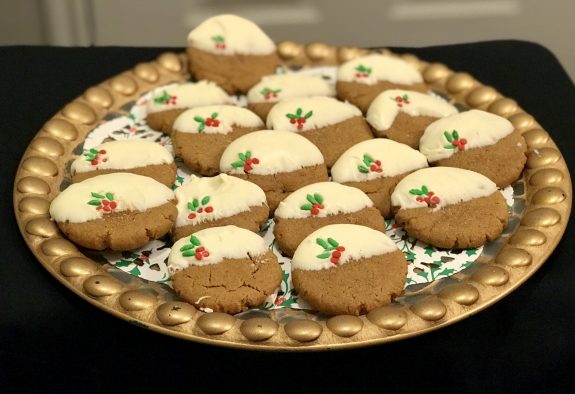 There's no better way to embrace the Christmas holiday than to bake delicious gingerbread cookies. Sure, you could make gingerbread men. It will impress the kids, but these cookies will definitely be memorable for kids and adults.
Ingredients Needed:
– 2 1/4 cups Flour
– 1 tsp Baking Soda
– 1/2 tsp Salt
– 2 tsp Ground Ginger
– 1 tsp Ground Cinnamon
– 1/4 tsp Ground Cloves
– 1/4 tsp Ground Nutmeg
– 3/4 cup Butter, softened (bring to room temp on a counter)
– 1/2 cup + 2 Tbsp. Sugar, divided
– 1/2 cup Packed Brown Sugar
– 1 Egg
– 1/4 cup Molasses
– 2 tsp Vanilla
– 1 pkg. White Chocolate Melts
– Holly Sprinkles
Supplies Needed:
Cookie sheets
Cooling rack
Parchment paper/non-stick silicone baking mat
Directions:
1. Preheat oven to 350 degrees.  Line your cookie sheets with parchment paper, wax paper, or a non-stick silicone baking mat.
2. In a large bowl, cream the butter and both sugars until light a fluffy.
3. Add the egg, molasses, and vanilla and blend well.
4. In another bowl, combine the dry ingredients; flour, soda, salt, ginger, cloves, cinnamon, and nutmeg. Stir this into the sugar mixture until well combined.
5. Roll dough into about 1 ½ inch balls and place on a baking sheet. Dip a glass into the extra sugar and press each cookie until flattened just slightly for thicker cookies.
For crispier cookies, gently press each cookie a bit more thinner.
*PRO TIP:  If you happen to notice that the cookie dough is a bit sticky, please the dough in the fridge for about 20/30 minutes so the dough can chill.
6. Bake for 8-10 minutes, remove the baking sheets from the oven and let them cool slightly.  After a few minutes, remove the cookies from the baking sheet and
place them on a wire rack to finish the cooling process.
7. Melt the chocolate per package directions and dip half of each cookie into the chocolate and lay back on the baking sheet. Place 2 little holly leaves and 3 red holly balls onto the chocolate.
8. Let the cookies sit until the chocolate hardens.
9.  Enjoy!
Average Member Rating
(0 / 5)
0 people rated this recipe