Basil Pesto Chicken, Goat cheese and Artichoke pizza
2018-06-10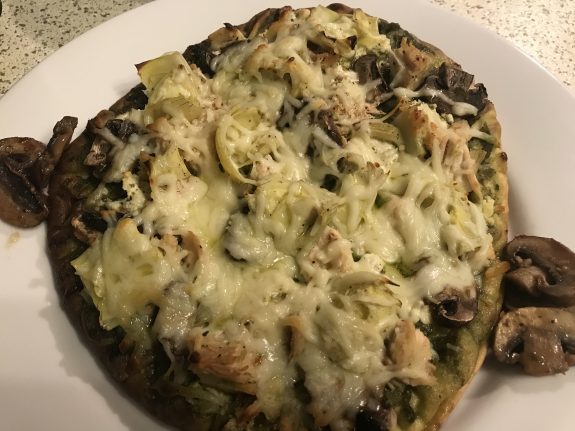 I'm a big time pizza fan!  Always have been crazy about pizza!  This pesto chicken pizza is one of my all time favorites!  Hope you enjoy it as much as I do!
Ingredients:
1, 12″ Italian bread shell or Naan bread
4 tablespoons basil pesto
1 small package of goat cheese (plain) -crumbled into chunks
2 cloves garlic, minced
1 cup cooked or grilled chicken breast, diced
1/2 cup Portabella mushrooms, sliced thinly
1/2 cup artichoke hearts, chopped
1 package (8 oz.) shredded mozzarella cheese
How to make it:
Preheat oven to 450 degrees.
Place bread shell on a baking sheet or pizza pan.
Spread basil pesto over the entire shell.
Cover the rest of the shell with diced chicken breast, goat cheese crumbles, garlic, Portabella mushrooms, artichoke hearts and mozzarella cheese on top.
Bake for 10 minutes or until cheese melts.  Serves 4.
Average Member Rating
(5 / 5)
1 people rated this recipe