Chicken Tikka Masala
2018-10-14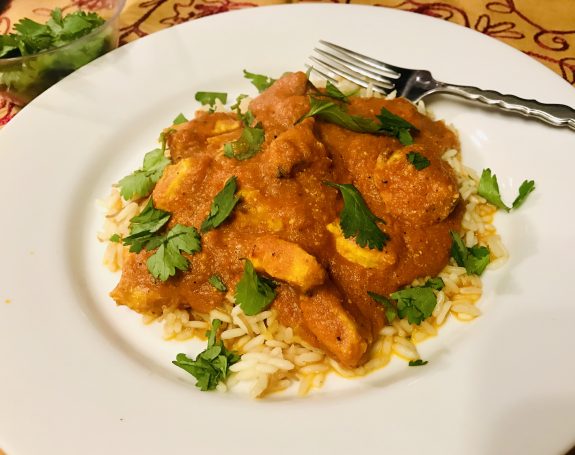 If you have ever been to an Indian restaurant, you can be assured that chicken tikka masala is on every menu.  This creamy, spicy, tomato based chicken entrée is sure to please.  I used to order it all the time whenever I was craving something spicy.  You can serve it over cooked Basmati Rice or Naan (Indian flatbread).  Chicken Tikka Masala is healthy, tasty and gaining in popularity.  I will show you how to save money and make it at home.  If you prefer your dish a little spicier than mine, add extra cayenne pepper. Yield: makes 4 servings
Ingredients (chicken marinade):
1 1/2 pounds of boneless, skinless chicken breasts (3 or 4 breasts) diced into bite sized pieces
1/4 cup plain whole-milk Greek-style yogurt
2 tablespoons peanut oil
2 teaspoons lemon juice (juice from one small lemon)
1 large garlic clove, minced
1 teaspoon salt
1/2 teaspoon black pepper
Ingredients (for the sauce):
1 28-oz. can whole peeled tomatoes, like San Marzano
1/4 cup tomato paste
3 Tablespoons of Ghee or Vegetable oil
1/2 cup yellow onion, diced
2 garlic cloves, minced
1 Tablespoon finely grated peeled ginger (from 1-inch piece)
2 teaspoons ground turmeric
2 teaspoons garam masala
1/2 teaspoon ground nutmeg
1 1/2 teaspoons paprika
1/2 teaspoon cayenne pepper
1 teaspoon salt
1/2 teaspoon black pepper
1/2 teaspoon crushed red pepper flakes
1/2 cup water
1/2 cup heavy cream or half-and-half
1/2 cup chopped fresh cilantro plus additional sprigs for garnish
Steamed Basmati rice (for serving)
How to make it:
In a medium bowl, whisk together the yogurt, peanut oil, lemon juice, 1 clove minced garlic, salt and pepper (for the marinade). Add the diced chicken and thoroughly coat all pieces.  Set aside and plan to marinade for 3-5 hours in the refrigerator covered tightly.
Make the sauce:
In a small bowl combine turmeric, garam masala, nutmeg, paprika, cayenne, salt, pepper, red pepper flakes and grated ginger.  Stir together and set aside.
In a heavy, wide 4-quart pot or sauté pan over medium high heat, melt vegetable oil.  Add the onion and garlic and stir occasionally until onion is translucent.
Combine the whole peeled tomatoes, tomato paste and rest of the spices from the small bowl (in step one). Reduce heat to medium to gently simmer the sauce for about 30 minutes.
Preheat broiler.  Line a rimmed baking sheet with non-sick foil.  Arrange chicken on the sheet pan with the yogurt sauce.  Broil until chicken starts to blacken in a few spots (it will not be cooked through), about 10 minutes.
Pull chicken out of the oven and let stand to rest about 1 -2 minutes.
Pour tomato sauce in a blender to mix well or use an immersion blender in the pot.  If you used a blender, pour blended tomato mixture back into the pot.  Add the creamer or half-and-half. Stir until blended well.
Use a slotted spoon and put the chicken in the sauce.  Sauté' for 3-4 more minutes.  Serve over cooked Basmati rice or cauliflower rice. Sprinkle chopped cilantro over each dish before serving.
Average Member Rating
(0 / 5)
0 people rated this recipe