Hatch Green Chili Cajun Chicken Breast with Jalapeno Jack Cheese
2019-08-26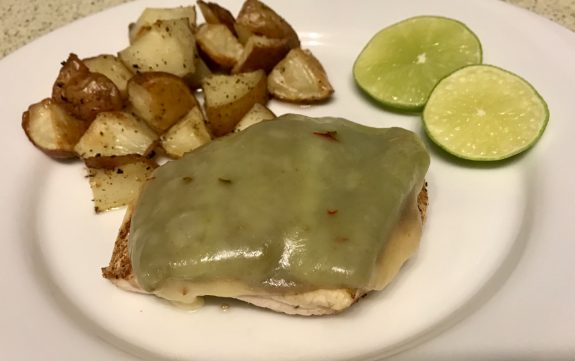 Hatch green chilies are all the rage in the Southwest area during August and September.  That's when they're "in season" and plentiful at the grocery stores and farmers markets.  I just love them and often create new and tasty recipes with them each season.  This chicken breast recipe is a nice and tasty change for a busy week night meal.  If you have a grill, you can throw it together in about 20 minutes.  If not, resort to the oven to bake -while you're assembling your side dishes.  You might have to freeze the roasted green chilies to have this recipe again after September.
Ingredients:
3 to 4 small chicken breasts
1 1/2 teaspoons of Cajun Blackened Seasoning
2 Tablespoons canola oil or Extra Virgin Olive Oil
 Salt & Pepper to taste
5 fresh hatch green chili peppers
4 slices of Jalapeno Jack cheese slices
How to roast the hatch chilies:
 Turn the broiler on high, at the oven.
Take a sheet pan and line with aluminum foil.  Lay the hatch chilis on the pan and drizzle 1 Tablespoon olive oil over the chilies.  Lightly salt and put in the oven.
 You will need to stick around and watch the chilies, -using tongs to turn over each side once blackened.  Once all sides are dark brown, pull out of the oven and lay on a plate to start cooling down.  Once you can touch them, put all the chilies in a large zip lock bag and close it.  I usually put the bag in the refrigerator for 5 minutes to chill.  The skin will be easier to pull off once they are steam out.
 Set-up a work area to pull out the chilies, scrape the skin off and cut the top of the chili -so you can get all the seeds out.  Lay flat and use a knife if necessary to scrape seeds and skin off the chili.  -Set aside.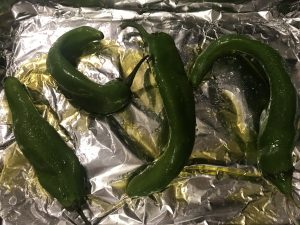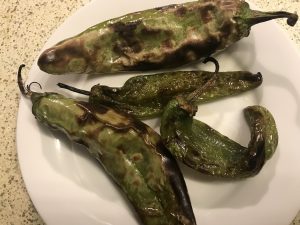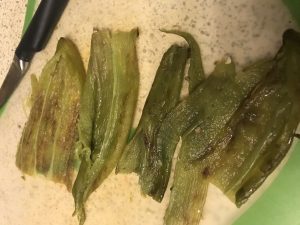 How to cook the chicken breast:
Turn off the oven on broiler and set for 400 degrees.  It might already beep at you -saying it's 400 degrees.
Assemble the chicken breast on a platter, sprinkle with Cajun seasoning and salt and pepper ever so lightly. Put on a hot grill or in a baking pan with a little bit of canola oil.  If you're cooking on the grill, flip to cook each sides.  If using the oven, then put the chicken in the hot oven and cook for 22 minutes -until all the chicken is completely white.  -Pull out the chicken and lay the hatch green chilies on top of each breast.  Then add the slices of Jalapeno jack cheese.  Cook on grill another 5 minutes or put back in the oven and heat for 7-10 minutes -until all the cheese is totally melted.    -This recipe makes enough for 3-4 servings.  Enjoy!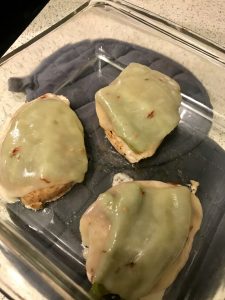 Average Member Rating
(0 / 5)
0 people rated this recipe