Beef Stir-Fry
2018-09-18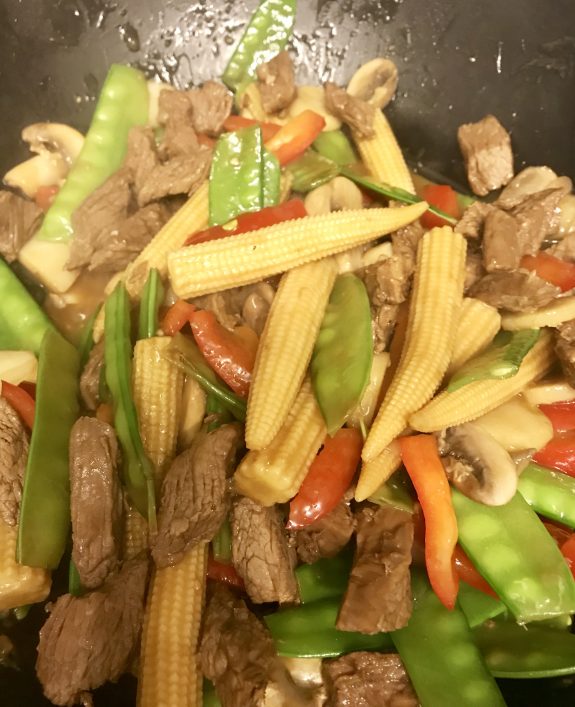 A little history lesson today…. Stir frying originated in China and it's a process where ingredients are fried in a small amount of very hot oil while being stirred in a wok.  The first woks I know of are little pottery models on the pottery stove modes in Han Dynasty (that is about 200 BC to 200 AD) tombs.  The wok is virtually indispensable for stir-frying.
I love to put food in my wok and have dinner ready in a jiff.  If you put my homemade stir fry sauce on the meat to marinade early in the day, then your dinner can be ready in under 15 minutes in the evening.  Hey, I'm busy…. You're busy…. Who wants to wait for a dinner that takes a long time to cook on a work week night?
Start with Stir fry sauce Ingredients:
1/4 cup sesame oil
1/4 cup low sodium soy sauce
1/2 teaspoon garlic powder
1 teaspoon ginger stir-in paste
2 tablespoons freshly squeezed lime juice
How to make it:
Pour all the ingredients into a glass jar or a small bowl with lid on, then shake really well.  Pour on your beef to marinade.
Beef Stir fry ingredients:
1 pound skirt steak, cut into 4-inch long pieces, then cut against the grain into 1/4 inch thick slices
1 serrano chili pepper, seeded and finely chopped
2 cloves garlic, minced
1 small shallot, thinly sliced
5 ounces fresh mushrooms, sliced
1/4 pound snow peas with tips trimmed on them
1 can 12 ounce baby corn, drained
1 red bell pepper, thinly sliced
2 teaspoons corn starch or allow root starch
4 oz. water chessnuts
How to make it:
Season the steak with salt and pepper. In a medium bowl, pour the stir fry sauce on the beef, toss to coat and set aside or in refrigerator covered (until you're ready to cook).
In a wok or large skillet over medium-high heat, pour the beef and sauce and heat thoroughly.  Cook about 3-5 minutes, stirring constantly.  Remove the beef from the skillet and set aside.
As liquid in the wok reduces and thickens slightly, add the garlic and shallot.  Cook another minute.  Add the snow peas, baby corn and bell pepper -continue cooking.
Ladle out about 4 tablespoons of liquid and put in small bowl, whisk in the starch -until the all the white powder disappears.  Pour this mixture back into the wok or skillet.
Cook until all the vegetables are crisp-tender, about 2 minutes.
Return the beef to the wok or skillet to combine.
This entrée can be served over rice, Yakisoba noodles or quinoa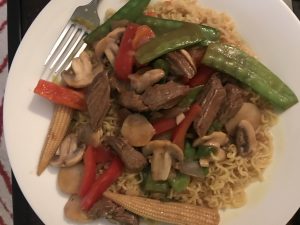 Average Member Rating
(0 / 5)
0 people rated this recipe