Hawaiian Turkey Meatballs
2019-06-11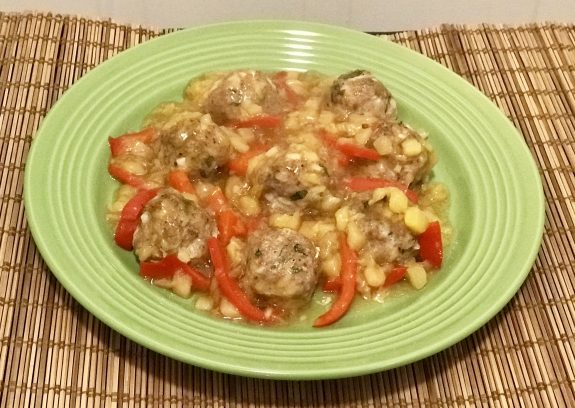 These turkey meatballs are so savory!  My pineapple teriyaki sauce with red pepper is just the right amount of sweetness -you won't stop at just one helping.  If you're serving this entrée to a family of 3 or more, -then I suggest you double the recipe.  You might not even have leftovers.
Ingredients:
For the Meatballs:
1 lb. of lean ground turkey (Labeled 93/7 at the grocery store)
1/2 yellow onion, finely chopped
1 Tablespoon garlic, minced
1/4 cup fresh Italian parsley, chopped finely
1/4 cup fresh cilantro, chopped finely
1/2 cup Kikkoman Panko Japanese style Bread Crumbs
1 egg
1 teaspoon salt
1/2 teaspoon black pepper
1/4 teaspoon garlic powder
1/2 teaspoon ground ginger
1 teaspoon crushed red pepper flakes
1 Tablespoon of vegetable oil
For the Pineapple Teriyaki Sauce:
1 (20 oz.) can crushed pineapple in pineapple juice
3 Tablespoons low sodium soy sauce
 2 Tablespoons honey
 1 Tablespoon fresh ginger -zested
 1 red pepper, sliced into 1/4 wide slices and 2 inches long
 2 Tablespoons Tapioca Flour
1/2 cup extremely warm water (for whisking the Tapioca Flour)
How to make the turkey meatballs:
 Preheat oven to 350 degrees.
 In a large bowl, combine ground turkey meat, onion, minced garlic, Italian parsley, cilantro, bread crumbs, egg, salt, black pepper, garlic power, ginger and crushed red pepper flakes. Using your clean hands or food service gloves on your hands, combine all ingredients well in the bowl.
In a sheet pan or baking dish add the vegetable oil and cover the bottom of the pan or baking dish.  Form the turkey mixture into balls -about the size of ping-pong balls.  Assemble the balls into the sheet pan or baking dish.  It should make 20 turkey meatballs.
Put the turkey meatballs in the oven and bake for 30 minutes.  While the turkey meatballs are baking, start making the pineapple teriyaki sauce.
How to make the pineapple teriyaki sauce:
 In a large saucepan with a lid, combine the crushed pineapple and all the juice.  Add soy sauce, honey and red pepper.  Heat on medium-low heat.
Take your measuring cup and fill with 1/2 cup of warm water.  Add the 2 Tablespoons of Tapioca Flour and whisk well with a fork -until all the powder is dissolved.  Pour into pineapples mixture. Stir frequently.  Once the sauce starts to thicken, turn on very low heat.
 Once your timer has gone off, take meatballs out of the oven and assemble on plate or bowl.  Ladle out the Pineapple Teriyaki mixture and serve immediately.
I like to serve this entrée over Trader Joe's Riced Cauliflower Stir Fry for a Paleo friendly low-fat dish.  You can serve over rice as well.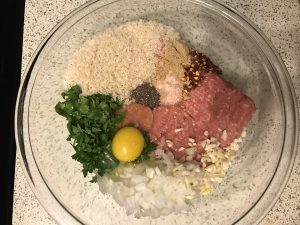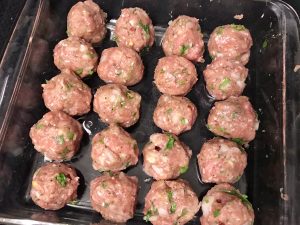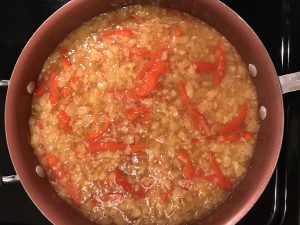 Average Member Rating
(0 / 5)
0 people rated this recipe