Mint Julep Cupcakes
2018-05-29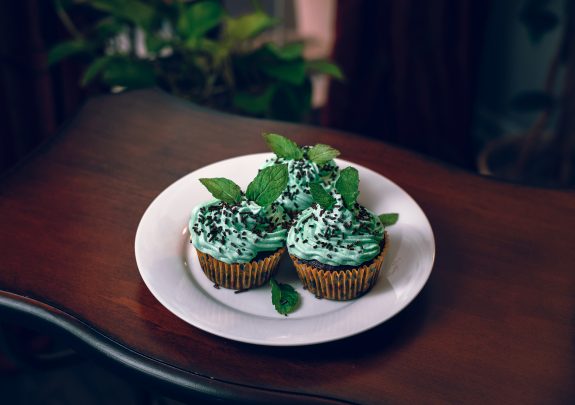 I created this recipe about 2 weeks before the Kentucky Derby 2018.  It's one of a kind. If you love Mint Juleps -like me, then you'll appreciate this tasty dessert.  It has super moist chocolate cake with a marshmallow and buttercream frosting.  Nothing but pure goodness at it's Southern best!
Ingredients:
3/4 cup all-purpose flour (spoon & leveled)
1/2 cup unsweetened natural cocoa powder
3/4 teaspoon baking powder
1/2 teaspoon baking soda
1/4 teaspoon salt
2  large eggs, at room temperature
1/2 cup granulated sugar
1/2 cup packed light brown sugar
1/3 cup vegetable or canola oil (or melted coconut oil)
3 teaspoons pure vanilla extract
1/2 cup buttermilk, at room temperature
frosting:  marshmallow and buttercream frosting
How to make it:
Preheat oven to 350 degrees F (177 C).  Line a 12-cup muffin pan with cupcake liners.  Line a second pan with 2 liners -this recipe makes about 14 cupcakes.  Set aside.
Whisk the flour, cocoa powder, baking powder, baking soda and salt together in a large bowl until thoroughly combined.  Set aside.  In a medium bowl, whisk the eggs, granulated sugar, brown sugar, oil and vanilla together until completely smooth.  Pour half of the wet ingredients into the dry ingredients and buttermilk. Gently whisk for a few seconds. Repeat with the remaining wet ingredients and buttermilk.  Stir until just combined; do no overmix.  The batter will be thin
Pour or spoon the batter into the liners.  Fill only halfway full (this is imperative! only halfway!) to avoid spilling !over the sides or sinking. Bake for 18-21 minutes, or until a toothpick inserted in the center comes out clean.  Allow to cool completely before frosting!
Frost cooled cupcakes with marshmallow and buttercream frosting.  You can use a piping tip bag or device for frosting cupcakes. I have a cupcake injector and decorating set. Top with sprinkles, if desired.  Store leftovers in the refrigerator for up to 5 days.
Make ahead tip:  Prepare cupcakes 1 day in advance. Keep cupcakes covered tightly at room temperature and frost the day of serving.  Un-frosted cupcakes can be frozen up to 2 months.  Thaw overnight in the refrigerator and bring to room temperature before frosting and serving.
Mint Julep Frosting:  Marshmallow Buttercream Frosting
Ingredients:
1 cup butter, softened
1 1/4 cup confectioner's sugar
1 teaspoon mint extract
1 teaspoon Prohibition Bourbon Whiskey 1920
1 (7 oz) container of Jet-Puffed Marshmallow Creme
Green food coloring
How to make it:
Cream butter in a mixing bowl with an electric mixer on medium until butter is soft and fluffy.  Gradually beat in confectioner's sugar, about 1/2 cup at a time; beat in mint extract and Bourbon whiskey.  Gently fold the marshmallow crème into the frosting until thoroughly incorporated.  Add 2-3 drops of green food coloring.
Fill piping bag with frosting to decorate cupcakes or find a cupcake injector decorating set.  Fill with frosting and a medium tip to decorate each cupcake.  Add sprinkles to top the cupcakes when finished.
Average Member Rating
(0 / 5)
0 people rated this recipe