Excellent Eggplant Parmesan
2018-09-11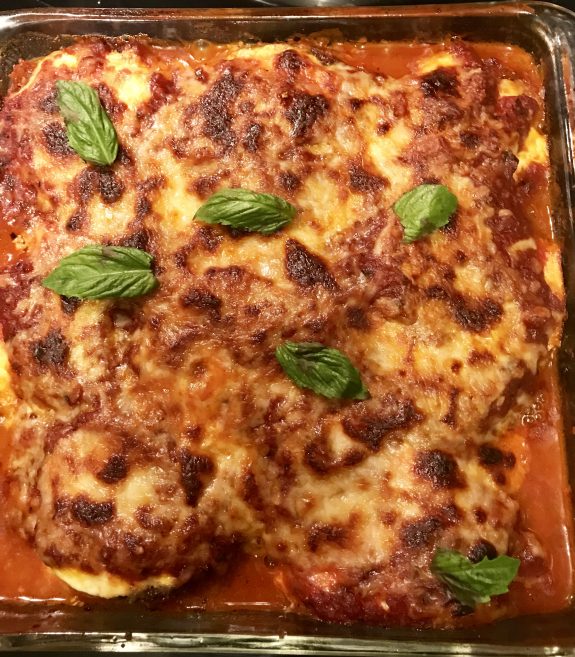 You've gotta try my excellent egg plant parmesan with homemade marinara sauce.  Vegetarians or not, you will love it!
Marinara
Ingredients:
1 (28 ounces) can of crushed Roma style tomatoes
1 (6 ounce) can tomato paste
4 tablespoons chopped fresh Italian parsley
2 cloves garlic, minced
1 teaspoon dried oregano
1 teaspoon dried basil
1 teaspoon salt
1/2 teaspoon ground black pepper
5 tablespoons Extra Virgin Olive oil
1/3 cup finely diced yellow onion
1/2 cup of red or dry white wine (I used a good red blend)
How to make it:
In a large skillet or stock pot over medium heat sauté the onion and garlic for about 2 minutes.  The onions will become translucent when they are finished cooking. Ladle the onions and garlic in a food chopper or food processor.  Add the fresh parsley, then chop more finely -until the mixture is incorporated thoroughly.  Return the onion mixture to the stock pot.
Combine the crushed tomatoes, tomato paste, oregano, basil, salt and pepper to the stock pot.  Continue cooking over medium heat, stirring constantly until tomato paste is blended.  Add the wine and stir some more.
Simmer for 30 minutes, stirring occasionally.
Note:  Sauce can be made 2 days ahead.  Cover and chill.  You will not use all the marinara sauce for this recipe.  This sauce freezes well, to use for future recipes.
Eggplant and Assembly
Ingredients:
1 medium eggplant, sliced lengthwise 1/2 inch thick
Kosher salt
1/2 cup Panko (Japanese breadcrumbs)
1 cup Italian Style breadcrumbs
1/2 teaspoon freshly ground black pepper
1/2 cup finely grated Parmesan
2 large eggs, beaten to blend
5 tablespoons Extra Virgin Olive Oil
1/4 cup fresh basil -for serving
4 ounces mozzarella, grated
8 ounces whole milk ricotta cheese
How to make it:
Lightly season eggplant slices all over with salt, then place a single layer on paper towels.  Continue stacking the eggplant on paper towels and season with salt. Cover the final layer with a paper towel.  Let the eggplant sit until it has released excess liquid, approximately 30-45 minutes.  This step gives the eggplant a creamy texture when baked.
Pour the Panko and the Italian bread crumbs 

In a shallow bowl or large plate.  Crack the eggs in a bowl and season with some salt and pepper, beat the eggs. 

Preheat oven to 350 degrees.  Assembly time:  Working one at a time, dredge eggplant slices in the eggs -then allow the excess to drip off.  Coat in the breadcrumbs, packing all around, then shaking off excess.  Place on clean plates and set aside.
Heat the oil in a large skillet over medium-high heat.  Cook as many eggplant slices as will comfortably fit in the pan, turning once, until deep golden.  This process will take about 5 minutes.
Transfer to paper towels and immediately press with more paper towels to absorb oil.  Working in batches, repeat with remaining slices. Season with a little more salt if needed.
Mix together the grated parmesan cheese and ricotta cheese in a bowl, then set aside.
Spread about 1 cup sauce over the bottom of a 8 X 8 inch baking pan; top with a layer of eggplant. Add a dollop of ricotta and parmesan mixture over each eggplant.  Lightly ladle more sauce over the top.  Put on 2nd layer of eggplant and cover with sauce.  Sprinkle the mozzarella cheese on top.
Cover with foil and bake on a rimmed baking sheet for approximately 22 minutes.
Remove from oven and increase oven temperature to 400 degrees and bake another 5-7 minutes.  Check on eggplant, the cheese will be bubbling and browned in spots.  Let rest for 10 minutes once you remove from oven so it will set well. Top with fresh basil leaves before slicing.
Average Member Rating
(0 / 5)
0 people rated this recipe