Pineapple and Jicama Salad in a Cilantro Vinaigrette
2018-05-24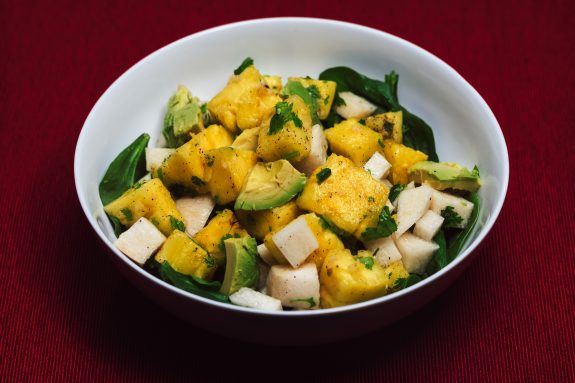 This delicious sweet and tangy salad taste great on it's own. However you can also add cooked or grilled shrimp.  The marinade is somewhat like a ceviche salad dressing.
Ingredients:
1 jalapeno pepper -seeded and minced
2 tablespoons fresh lime juice (one small lime)
1  1/2 tablespoons rice vinegar
1/2 bunch fresh cilantro, minced
1/2 teaspoon salt
1/4 teaspoon ground black pepper
2 tablespoon olive oil
1 teaspoon minced garlic
1/2 fresh pineapple -peeled, cored and cut into small chunks
1 avocado -peeled, pitted and diced
1 small jicama, peeled and cut into small chunks
baby spinach or spring mix
How to make it:
Whisk together the jalapeno pepper, lime juice, rice vinegar, cilantro, salt and pepper in a large bowl.  Slowly drizzle in the olive oil while continually  whisking.  Add pineapple and jicama; toss to coat.  Allow to sit for 30 minutes to 1 hour.
Place baby spinach or spring mix in a large salad bowl; scatter the diced avocado over the lettuce.  Top the marinated pineapple and jacama on the bed of lettuce.  Serve immediately.
Average Member Rating
(0 / 5)
0 people rated this recipe