Turkey Meatball Kale and Carrot Soup
2020-01-04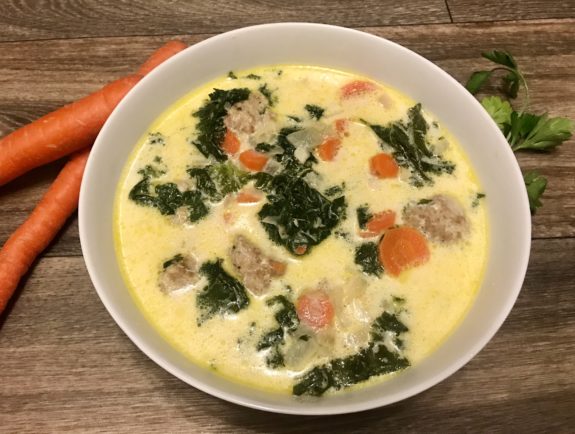 Turkey Meatball Kale and Carrot Soup
This healthy and delicious low calorie soup is perfect to make ahead for those busy weeknights. It's relatively inexpensive to make.
Ingredients:
1 large egg

1/2 c. grated Parmesan, plus more for serving 

1/4 c. flat-leaf parsley, finely chopped 

1 lb. ground turkey 

1/4 teaspoon garlic powder 

1/4 teaspoon onion powder

1 1/2 teaspoon Himalayan salt 

1 teaspoon Pepper

2 tbsp. olive oil 

2 carrots, sliced 1/4 inch thick

1 medium onion, chopped 

2 cloves garlic, finely chopped 

1 32-oz container low-sodium turkey or chicken broth 

1 medium bunch kale, stems discard, leaves chopped (about 4 cups)

1 c. half-and-half
How to make it:
Heat oven to 350°F. Line a rimmed baking sheet with nonstick foil. 

In a large bowl, combine egg, Parmesan, and parsley. Add turkey, garlic powder, onion powder, 1 teaspoon of salt and 1/2 teaspoon pepper and mix to combine. Shape into small balls (each from about 1 level tablespoon mixture) and place on prepared baking sheet. Bake until set and barely pink on outside, 17 minutes; drain and set aside.

Meanwhile, heat oil in a large pot or Dutch oven on medium. Add onion, carrot and garlic and cook, stirring frequently, until just tender, about 3 to 5 minutes.

Add broth, 1/2 teaspoon salt, 1/2 teaspoon pepper and bring to a boil on high. Reduce heat to low and stir in kale. While stirring, slowly add half-and- half. Add meatballs and cook 10 minutes (do not boil). Serve, topped with extra Parmesan, if desired. 
Average Member Rating
(0 / 5)
0 people rated this recipe