Red Wine-Braised Beef Short Ribs
2018-11-12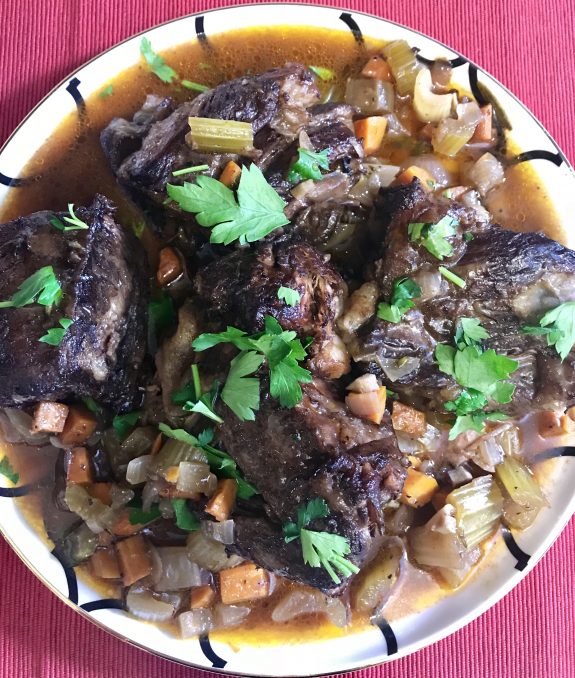 These red wine braised short ribs are so flavorful.  Choosing the right dry red wine is important to create that rich and sophisticated taste.  I chose Chateau Lafite Rothschild wine from France.  It goes with beef and creates a great taste in the beef broth too.  You can slow roast this in the oven at 300 (covered) -after browning the beef ribs or you can slow cook in a large crock-pot for 3 hours.  You must add the seasonings, broth and vegetables before slow cooking process begins.
Ingredients:
6 beef short ribs, trimmed of fat
4 cups beef stock (32 oz. bottle)
1 Tablespoon brown sugar
1/4 cup Extra Virgin Olive Oil
3 sprigs fresh thyme sprigs (leaves only)
2 teaspoons Kosher salt
1 teaspoon black pepper
1 1/2 cups yellow onion, chopped
2 cups celery, diced
2 carrots, diced
3 garlic cloves, minced
2 Tablespoons tomato paste
pinch of cayenne pepper
3 tablespoons unsalted butter
3-4 Tablespoons Arrowroot or Cornstarch
3 Tablespoons Italian parsley -chopped (add at the end)
1 (750-ml) bottle of Chateau Lafite Rothchild or other dry red wine
How to make it:
Pour oil in a medium sized skillet and turn on medium-high heat.
Wipe excess moisture off short ribs with a paper towel.  Season beef ribs with salt and pepper.  Brown both sides of ribs for 2-3 minutes on each side in warm oil.  Remove from skillet, place into crock pot or roasting pan.
Pour the beef broth over the ribs.  Continue adding vegetables, tomato paste, seasonings and wine.  Cook in over for 3 hours at 300 degrees or in a crock pot on high for 3 hours.  You may cook them a little longer if you like, you ribs will fall off the bone and the meat will be very tender by this point.
You can use the juice to make gravy with some Arrow Root or corn starch.  Carefully remove ribs, pour sauce in a large bowl -using a colander -to filter out the vegetables. Pour the sauce into a saucepan, stirring on medium-high heat.  Ladle out 1/2 cup broth, whisk with starch gradually until completely dissolved.  Then pour the mixture back into the broth, watch it thicken  Add butter at the end. Beef gravy will be thicker and slightly shiny.
Serve ribs on a platter with a little gravy on top, add some vegetables and sprinkle with chopped Italian parsley. -Serves 6 people.
Average Member Rating
(0 / 5)
0 people rated this recipe